(Auszug aus der Pressemitteilung)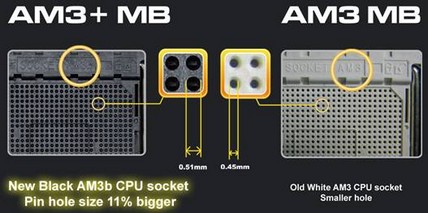 TAIPEI, Taiwan, April 29, 2011 – If there's one component you don't want to fail in your PC; it's the one that holds all the other together: motherboard. With the importance of motherboards in mind, ASRock is proud to unveil several REAL AM3+ motherboards based on AMD 890FX, 890GX, 880G and 870 chipsets.
Many motherboard manufacturers claim that their AMD AM3 mainboards are compatible with AM3+ processor by the BIOS upgrade. However, this method may be not stable enough to provide a reliable computing, and may result in certain effects. The latest ASRock Real AM3+ socket motherboards were solidly built with AM3+ CPU power solution and all AM3+ related hardware components. Hence, users can be assured to have an advanced and efficient computing experience! Why users should choose Real AM3+ MB? We provided six reasons for answers!
(1) New Black AM3b CPU Socket
AM3+ socket comes with a black design and the recognizable 'AM3b' wording. With the 11% bigger pin hole size, AM3+ board is able to prevent some possible mechanical mismatch issues and avoid CPU pin-bent problem when installing the CPU.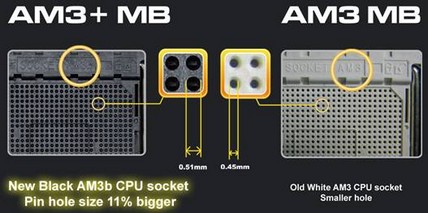 (2) 3.4 MHz Serial VID Support : Faster link between CPU and Power Controller
The AM3+ motherboard provides 3.4 MHz Serial VID support, allowing faster link support between CPU and power controller. Compared to the old AM3 MB that is only compatible with 400 KHz link, the new AM3+ MB serves better power management and power saving.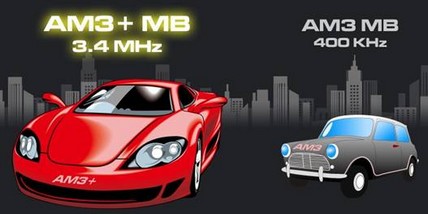 (3) Efficient Power Loadline Design : Provides Efficient Power Supply
The advanced AM3+ design supports efficient power supply, providing up to 11.8% better CPU power saving, and it's environment-friendly as well.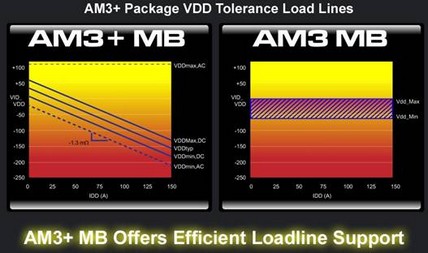 (4) CPU Power Noise Reduce 22% : Delivers The Best Power Quality
Lower CPU noise is surely better! While two systems are in the same loading, the new AM3+ motherboard design improves Vcore variation and reduces CPU power noise up to 22%!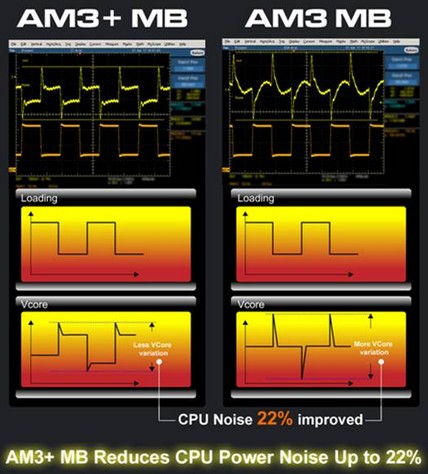 (5) Up to 32% Higher Current Support
The AM3 CPU requires 110A current while the advanced AM3+ CPU needs 145A current. It's 32% higher current needed for higher requirement. The new AM3+ motherboard provides sufficient current for AM3+ CPU to satisfy today's most demanding technology.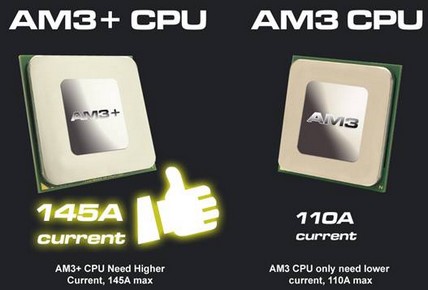 (6) Unique C.C.R. (Combo Cooler Retention) Module
With the innovative C.C.R. design, ASRock AM3+ motherboards provide better efficiency for CPU, memory and power components. The testing result shows that C.C.R. design makes the CPU power choke much cooler! In addition, the unique C.C.R. module is backward compatible with the old AM3 and AM2+ CPU cooler as well.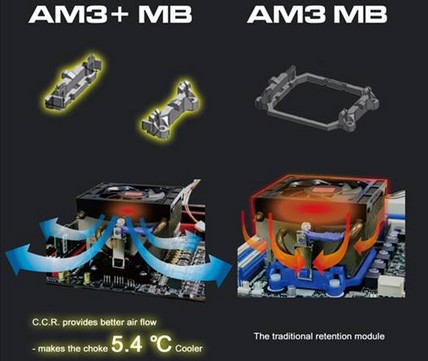 As the third-largest motherboard manufacturer in the world, ASRock strives to develop innovative products and bring unparalleled performance to real world computing. Thanks to stupendous build quality, the advanced ASRock Real AM3+ Motherboard Series are able to deliver the most reliable desktop computing experience yet.