(Auszug aus der Pressemitteilung)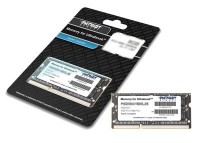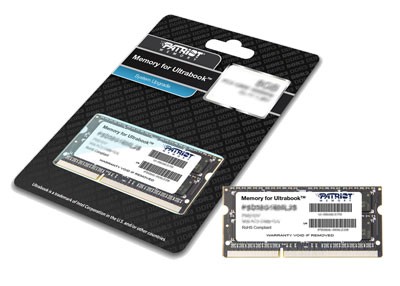 Fremont, California, USA, October 17th, 2012 – Patriot Memory, a global pioneer in high-performance memory, NAND flash, storage and enthusiast computer products today announces the availability of its new Memory For Ultrabook™ SODIMM Modules. Compatible with 3rd generation Intel® Core processors, these modules offers consumers a no hassle option to upgrade Ultrabook™ class laptops for increased performance and productivity.
Providing the most dynamic and powerful mobile computing platform, the Ultrabook™ delivers the highest levels of portability, performance, and entertainment. The Ultrabook™ is truly redefining the mobile computing experience. With this in mind, Patriot's Memory for Ultrabook™ SODIMM modules were designed to offer the perfect performance enhancement to the Ultrabook™ ecosystem.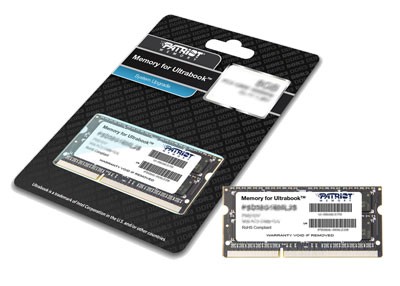 Running at just 1.35 volts, Patriot's Memory for Ultrabook™ SODIMMs are ultra-low power (ULP) optimized providing extremely efficient performance at extremely low temperatures. These SODIMM modules are built from a locked high quality build of materials and hand tested offering consumers rock-solid plug and play performance for the most demanding mobile applications. Patriot's Memory for Ultrabook™ modules are also backed by a limited lifetime warranty and award winning customer support.
"Patriot Memory and Intel have been leaders in delivering the fastest and most optimized technologies for mobile platforms," said William Lai, Director of Product Management at Patriot Memory. " We're excited to have Intel's support as we launch our Memory for Ultrabook™ SODIMM memory. These modules will provide excellent performance and efficiency, further enhancing the experience of the already powerful Intel based Ultrabook™ platform. "
"Intel's Ultrabook™ initiative was developed to deliver incredible "on the go" performance, while achieving great battery life", said Steve R. Peterson, Intel Channel Client Marketing Director. "I'm thrilled with the momentum and variety of sleek and stylish Ultrabook™ designs that are in the market place today. Our work with Patriot Memory will deliver low power and performance oriented memory upgrades, further enhancing the Ultrabook™ experience".
Features
Available in 4GB & 8GB SODIMM Modules
SODIMM Type: 204-Pin Dual In-Line Memory Module
Available Frequencies: 1333MHz, 1600MHz
Ultra-Low Power Optimized, 1.35 Volt
Compatible with Intel's® 3rd Generation Mobile Processors
Backwards compatible with 1.5 Volt Standards
Limited Lifetime Warranty
Avalable in channel late October, 2012.