(Auszug aus der Pressemitteilung)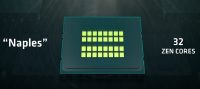 SANTA CLARA, Calif. — March 7, 2017 — AMD (NASDAQ: AMD) today took a significant step into the server and datacenter market with its most detailed look yet at the upcoming high-performance CPU for servers, codenamed "Naples". Purpose-built to disrupt the status-quo and to scale across the cloud datacenter and traditional on-premise server configurations, "Naples" delivers the highly regarded "Zen" x86 processing engine in industry-leading configurations of up to 32 cores. Superior memory bandwidth and the number of high-speed input / output channels in a single-chip further differentiate "Naples" from anything else in the server market today. The first processors are scheduled to be available in Q2 2017, with volume availability building in the second half of the year through OEM and channel partners.
"Today marks the first major milestone in AMD re-asserting its position as an innovator in the datacenter and returning choice to customers in high-performance server CPUs," said Forrest Norrod, senior vice president and general manager, Enterprise, Embedded and Semi-Custom business unit, AMD. "'Naples' represents a completely new approach to supporting the massive processing requirements of the modern datacenter. This groundbreaking system-on-chip delivers the unique high-performance features required to address highly virtualized environments, massive data sets and new, emerging workloads."
The new AMD server processor exceeds today's top competitive offering on critical parameters, with 45% more cores1, 60% more input / output capacity (I/O)2, and 122% more memory bandwidth3.
"It is exciting to see AMD back in the server conversation with a new CPU and a sound strategy for why it is the right processor for the modern datacenter and the cloud computing era," said Matt Eastwood, senior vice president, Enterprise Infrastructure and Datacenter, IDC. "Looking at the product details announced today, it sounds like a compelling combination that will give IT buyers a unique new option to consider when making their next upgrade."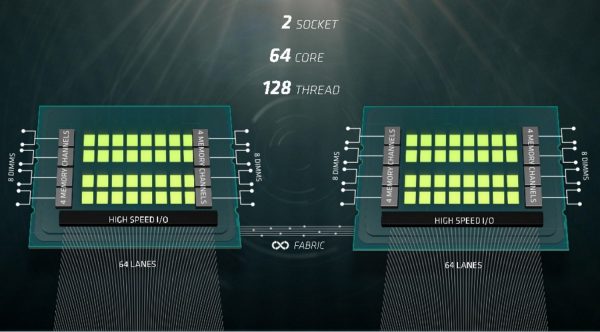 "Naples" features:
A highly scalable, 32-core System on Chip (SoC) design, with support for two high-performance threads per core
Industry-leading memory bandwidth, with 8-channels of memory per "Naples" device. In a 2-socket server, support for up to 32 DIMMS of DDR4 on 16 memory channels, delivering up to 4 terabytes of total memory capacity.
The processor is a complete SoC with fully integrated, high-speed I/O supporting 128 lanes of PCIe® 34, negating the need for a separate chip-set
A highly-optimized cache structure for high-performance, energy efficient compute
AMD Infinity Fabric coherent interconnect for two "Naples" CPUs in a 2-socket system
Dedicated security hardware
AMD will deliver two presentations on its datacenter strategy and upcoming products this week during the Open Compute Summit. Scott Aylor, vice president of enterprise solutions will talk in the main hall on Wed., March 8th at 4:55 PM PST, while Dan Bounds, senior director of enterprise products, will deliver an engineering Tech Talk on Thurs., March 9th at 9:20 AM PST on the Expo Hall stage.
1. AMD "Naples" processor includes up to 32 CPU cores versus the Xeon E5-2699A v4 processor with 22 CPU cores. NAP-02
2. AMD "Naples" processor offers up to 64 PCI Express high speed I/O lanes per socket, versus the Xeon E5-2699A v4 processor at 40 lanes per socket. Note that the "Naples" pre-production processor used for this comparison is not yet certified as PCI Express-compliant. NAP-05
3. AMD "Naples" processor supports up to 21.3 GB/s per channel with DDR4-2667 x 8 channels (total 170.7 GB/s), versus the Xeon E5-2699A v4 processor at 19.2 GB/s with max DDR4-2400 x 4 channels (total 76.8 GB/s). NAP-03
4. Pending PCIe certification. PCIe is a registered trademark of PCI-SIG Corporation.