(Auszug aus der Pressemitteilung)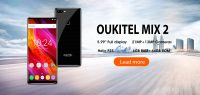 OUKITEL MIX 2 has been on sale for a period of time and flash sale is still hot ongoing. When delivery of MIX 2 started, we are able to test the camera effect of MIX 2. OUKITEL has been optimizing the camera of MIX 2 to make it perfect.
OUKITEL MIX 2 features a 21MP main camera and a 2MP secondary camera on the back, offering SLR experience and excellent shooting experience. OUKITEL chose Samsung 3P3 IC for the 21MP camera to ensure good camera effect. It also gets a 13MP(8MP interpolated) camera for the front facing selfies. Both the front camera and rear camera is packed with a flash light for shooting in low light condition and night shooting.
OUKITEL MIX 2 stands out not only because of its high definition camera with Samsung IC, but also due to its perfect combination of double glossy design and aluminum alloy frame with electroplating craft. With the latest 18:9 full display design, OUKITEL MIX 2 displays itself a fashionable smartphone which will draw your attention at first sight. A beautiful handset, specially optimized camera, together with the powerful performance, large memory, and large memory, OUKITEL MIX 2 deserves to be a flagship model of the year.
OUKITEL MIX 3 1212 flash sale is still hot ongoing and will last until end of this week. To know more about MIX 2 and 1212 flash sale, click here.