(Auszug aus der Pressemitteilung)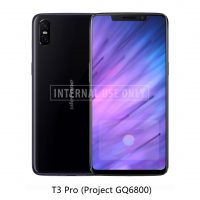 Recently, Xiaomi and OPPO will release the new products with face recognition which equipped 3D structured light. Users' face will only need to be captured in front of the camera instead of doing any action to be through the verification and this effectively prevents paper, mask, screen or any other unlive items. Compared to 2D recognition, 3D structured light face recognition is much safer, more precious, more speedy.
And Ulefone also leak the information that they will release the new product T3 Pro. Ulefone is cooperating with Orbbec Technology (a manufacturer of 3D structured light device) to research the device of 3D structured light. Also, T3 Pro equipped in screen fingerprint function in large area which allows users to match the fingerprint more eaisly. This is worth expecting, with the advanced chronology, Ulefone will have more advantage in price.
And not so long ago, Ulefone also released a product equipped in-screen fingerprint sensor, all screen flagship T2 Pro in MWC. However, affected by the chip makers, this product is not in mass production stage yet, but it's gonna be soon.
In addition to that, expect T2 Pro that attracts more attention, Ulefone will release a middle-end notch display screen Ulefone X on June.
Moreover, Ulefone has the extradinaory contribution in power duration, such as Power 5 with 13000mAh (Learn more about Ulefone Power 5). And let's expect more in high-end smartphones aspect from Ulefone due to T3 Pro's performance.