(Auszug aus der Pressemitteilung)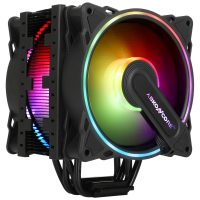 The Netherlands, 23 april 2020 – Introducing the Abkoncore T404B Hurricane universal socket CPU cooler with two Huricanne RGB fans, give this cooler a luxurious and simply cool appearance.
Abkoncore today rolled out the T404B Hurricane tower type CPU air cooler under its Cool Storm code name series. Its design involves a conventional tower-type aluminum fin-stack heatsink that's ventilated by two 120 mm addressable RGB fans in push-pull configuration. This item provides capacity of up to 170 W TDP, and includes support for INTEL LGA115x, LGA2066 and AMD all the way to AM4 sockets.
The heatsink design of the CT404B DUAL SYNC involves a base at which four 6 mm-thick copper heat pipes make direct contact with the CPU, conveying heat through the fin-stack, which is then ventilated by the fans. Each of the two 120 mm fans takes in 4-pin PWM for their main function, spin between 800 to 1,800 RPM, pushing a little over 50 CFM of air with maximum noise output of 33 dBA. The fans feature addressable RGB lighting, and take in 3-pin ARGB input. Measuring 128 mm x 107 mm x 157 mm (WxDxH), it weighs 1 kg. Available now, the Abkoncore Cool Storm T404B Hurricane is priced at €39.95,-
SHORT SPECIFICATIONS:
Model: T404B Hurricane Sync
Materials: Aluminium Fins + four 6mm heatpipes
Two aRGB 120mm Hurricane fans
Dimensions: (WxDxH): 128x107x157mm
Weight: 875g
CPU support: INTEL 775/1155/1156/1366/2011/2066 AMD AM4/FM2/FM1/AM2/AM2+/AM3/AM3+/AM4
Cooling Fan: Two aRGB 120mm Hurricane fans + sync control hub included
Bearing: Hydro Speed: 800~1800RPM+/-10%
Noise level: 33.0 dBA (max)
Connector: PWM 4pin / 3pin +5V aRGB connector
Input voltage: 12VDC TDP: 170W
ITEM NUMBER:
CT404B DUAL SYNC
MANUFACTURER SUGGESTED RETAIL PRICE:
€39.95 / $ 42.99