(Auszug aus der Pressemitteilung)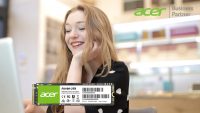 [Miami, FL–April 27, 2021] BIWIN, a leading chip manufacturer for flash storage, reached an agreement to bring Acer-branded memory and personal SSD storage products to customers in the United States, China, Belgium, Germany, Italy, Netherlands, Portugal, Spain, and UK with additional markets planned.
The product offerings will take advantage of BIWIN's manufacturing capability and Acer's global brand recognition to provide the latest in memory and storage solutions for both professional and home users.
In a world where more than 60,300 Instagram photos are uploaded each minute1 and at least 300 new hours of video show up on YouTube2, Acer memory and storage aims to make the faster flash storage memory accessible to as many people as possible to improve the quality of lives in which precious memories and data are captured digitally.
For example, the new Acer storage M.2 PCIe Gen3 NVMe drive— the FA100 [shown above] — is available from 128 GB up to 2 TB with speeds reaching up to a hyper fast 3300 MB/s read and 2700 MB/s write. This exceptional performance is six times faster than standard SATA SSDs (and more reliable and more energy efficient).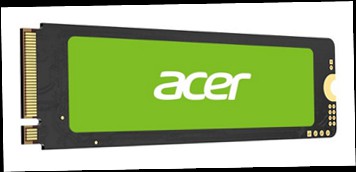 Designed as a single sided board, the FA100 is ultra-thin to match even the most modern laptops.
The Acer-branded SSD portfolio includes 2.5″ M.2 SATA as well as M.2 PCIe Gen3 NVMe drives. The two 2.5″ models (SA100 series) offer the perfect balance between performance and reliability in capacities from 120 GB up to 1.92 TB.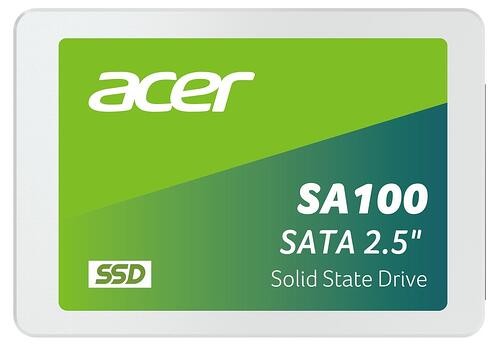 An RE100 model is also available as an M.2 drive. With capacities from 128 GB up to 1 TB (M.2) and 4 TB (SATA) and with Read and Write speeds of 560 MB/s and 520 MB/s, the RE100 performs close to the SATA interface´s maximal speed and is an extremely reliable solution for speed and capacity to easily upgrade any desktop PC or laptop to the latest SATA technology.
Acer-branded DRAM module range includes standard SO- and UDIMM-modules from 2666 up to 3200 MHz, with capacities from 4 GB up to 32 GB per single module. The perfect upgrade for any desktop PC and laptop– especially as demand is continuously growing for higher capacity memory modules.
The SD-100 SO-DIMM [shown at right] is the easiest way to add more speed and power to a laptop. Faster boot times and more efficient multi-tasking makes creating and saving digital content a breeze. And the 1.2V low power options works to prolong battery life of laptop.
For high-performance computing enthusiasts, an Acer-branded HT100 module features a high-efficiency aluminum heatsink with minimalistic design.
It offers from 8 GB up to 32 GB with impressive speed rates from 2666 up to 3600 MHz.
For consumers of all types, the Acer-branded range of memory and storage promises to make our digital lives easier.