(Auszug aus der Pressemitteilung)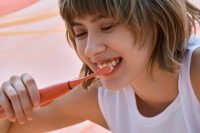 Oclean Brands Introduction:
Oclean stands for Oral and Clean, which illustrates its vision and devotion to promoting the general public's oral health and wellbeing via technology, style, profession, and quality-oriented products.
In 2017, Oclean Launched the World's Premier Maglev Brushless Motor Smart Sonic Electric Toothbrush Oclean One, Automatically Generating Smart Customized Oral & Dental Care Suggestions and Instant Toothbrushing Feedback through APP while Promoting Clean Efficiency.
In 2019, Oclean Released the World's First Color Touchscreen Smart Sonic Electric Toothbrush Oclean X Allowing Users to Personalize Brushing Intensity and Plan with Instant Brushing Data, Hard-to-Reach Areas Detected Feedback and Brushing Time.
In 2020, Oclean Announced W1 Oral Irrigator with Patent Aerodynamic Technology Providing Even Comprehensive and Professional Oral & Dental Care.
Oclean – Pioneer of Advocating and Promoting the Concept of Smart Oral & Dental Care in the Industry, Provides Quality, Scientific and Stylish Oral & Dental Care Products and Digital Management Clean Solution Worldwide through Technology and Innovation.
Advantages of Oclean electric toothbrush:
Remove years of tooth stains: Stains that cannot be removed by a manual toothbrush
Sensitive to the vibration of electric toothbrushes: I am used to the light frequency vibration of manual toothbrushes, and cannot adapt to the high-frequency vibration of electric toothbrushes for a while
Charging & battery life: manual toothbrushes do not need to be charged, electric toothbrushes need to be changed frequently, often because of "suddenly out of power", "cannot find the charger" and give up using the electric toothbrush
5 Slogans for Oclean flow electric toothbrush:
Super, super, SUPER long battery life, Charge once for over 180 days brushing power
Not one, not two… but five brushing modes!
Customize, optimize, and perfect your routine
Powerful yet gentle, efficient for all smiles. And yes, even for you sensitive-gummers
A form that makes waves, oceanic-fresh design
3 main questions about Oclean Flow electric toothbrush:
What are the innovations or differences in technology?
Maglev motor and Dupont bristle delivers efficient clean power
Battery Life? How to charge?
180 days battery life, lasts up to 25+weeks between charges
adaptable with any USB type-c connector, and compact to go anywhere, anytime
Is it waterproof? Waterproof level?
Yes, IPX7
Detailed parameters of Oclean Flow electric toothbrush:
Marketing Name: Oclean Flow
Version: Standard
Launch Date: May 2021
Motor Frequency: ≥38000rmp
Brushing Power: ≥180gf.cm
Battery Capacity:2500mAh
Charging Method: USB-Type C
Power Input: 5V 1A/5W
Charging Duration: <5 hours
Standby Time(under specific conditions):>180 days (at lowest intensity)
Waterproof Rating: IPX 7
Operating Modes: 5 modes (Dawn、Dusk、Cleaning、Whitening、Gentle)
Mode Memory: √
2-Minute Timer: √
3-second gradual power-on: √
Color: 2 types
Packaging type: pull-out box
Brush Handle:1
All-purpose brush head :1
USB Type C data Cable:1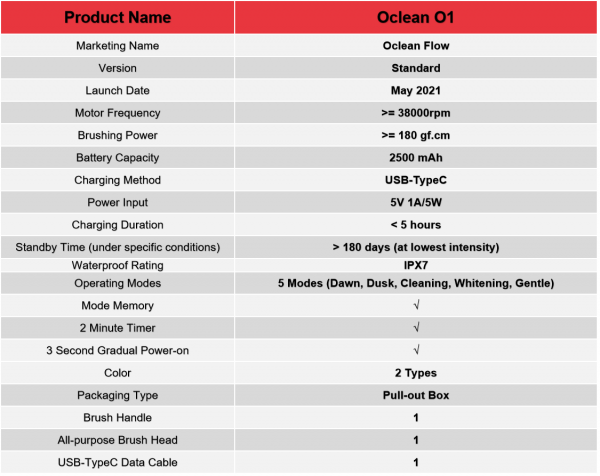 Shopping website: youpinchoose introduction:
Youpinchoose (Xiaomi Youpin): Offers and discounts on the entire Xiaomi ecosystem.
is a critical part of Xiaomi's "New Retail" strategy. Relying on Xiaomi's powerful eco-system and using its marketing strategy, Youpinchoose aims to create a better lifestyle for all customers by offering high-quality products at their most affordable prices.