(Auszug aus der Pressemitteilung)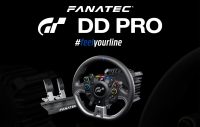 Landshut, Germany – November 24, 2021 – Fanatec introduces the Gran Turismo™ DD Pro, the first official Direct Drive Wheel for the Gran Turismo™ series. The ready-to-race package, officially licensed for PlayStation®5 consoles and PlayStation®4 consoles, includes a high-performance direct-drive wheel base, steering wheel, and pedals. It was developed in parallel with the CSL DD, in close collaboration with Sony Interactive Entertainment and Polyphony Digital.
When Fanatec was founded in 1997, the goal was to create gaming hardware that would elevate the user experience through innovative design and cutting-edge technology. Since then, the company has positioned itself as the leading brand in sim racing, consistently raising the bar with products that focus on ease of use and driving immersion. The Gran Turismo™ DD Pro is a milestone product, setting new standards for performance.
The collaboration between Fanatec and Polyphony Digital starts with the Gran Turismo™ DD Pro, the first ever Direct Drive system developed for a Gran Turismo™ game. The Gran Turismo™ DD Pro is compatible with Gran Turismo™ Sport and Gran Turismo™ 7, the latest game in the series, set to release in 2022, and has bespoke inputs, tailored specifically for that game.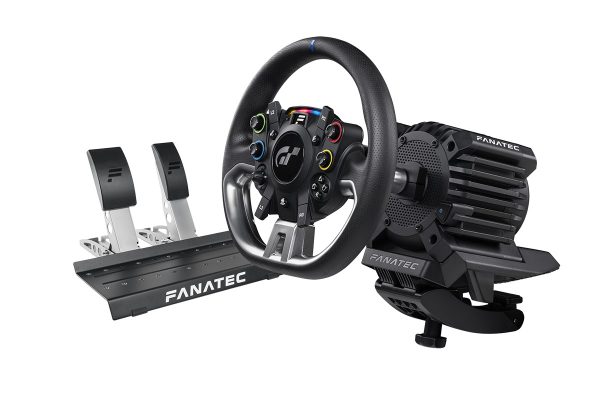 Fanatec, CEO, Thomas Jackermeier:
"The community has asked for an affordable direct drive wheel with load cell pedal and we took a lot of efforts to make the impossible come true. The steering wheel was entirely designed in collaboration with Polyphony Digital and we worked closely together to make everything work perfectly with Gran Turismo™Sport and the upcoming Gran Turismo™ 7 which is announced for release in 2022. Direct Drive is the new standard in sim racing and every racer who tried it once will never go back to a belt drive wheel."
Features
Gran Turismo™ DD Pro Wheel Base:
The first official Direct Drive Wheel for the Gran Turismo™ series
Officially licensed for PlayStation®5 consoles and PlayStation®4 consoles
Direct-Drive system delivers instant, detailed force feedback
Linear, consistent performance (5 Nm peak torque)
Optional Boost Kit 180 (sold separately) unlocks maximum strength (8 Nm peak torque)
Patented, exclusive FluxBarrier technology optimises motor efficiency and smoothness
Full Fanatec SDK support ensures game compatibility out of the box for all major racing games
Standard Tuning Menu allows beginners to get started quickly without having to worry about settings
Advanced Tuning Menu allows enthusiasts to fine-tune the force feedback characteristics to suit their driving preferences
High-resolution (contactless) Hall-position-sensor, same as Podium Series
Steering axis made from carbon fibre-enhanced composite
Fanless: wheel base housing is made from aluminium (passive heat sink, core structural component) with composite end caps
Slip ring system (life-tested for thousands of hours) provides cable-free delivery of power and data between steering wheel and wheel base
Automotive-grade quick release, exchangeable
T-nut rail system on sides and bottom for easily adjustable hard-mounting
Table clamp included, supports 5 to 60 mm table thickness
Ports:

Power supply
USB-C to console / PC
Shifter 1
Shifter 2 (Sequential only)
Pedal
Handbrake

Front-mounted threaded inserts for Fanatec accessories (e.g. ClubSport Static Shifter Paddles, available separately). Not intended for front-mounting the wheel base to a sim racing chassis/cockpit.
Steering wheel for Gran Turismo™ DD Pro:
Designed in collaboration with Polyphony Digital
Tactile rubber grip with blue centre stripe
Compact 280 mm diameter and light weight for crisp response
Diffused RevLED strip (yellow, red, and blue LEDs)
White OLED display for Tuning Menu access and telemetry output (where supported)
5-way directional stick for menu navigation
Four additional 5-way directional sticks
Ergonomic shifter paddles
11 buttons optimised for the PlayStation® console control scheme interface
Fiberglass-reinforced plastic construction
Exchangeable QR1 Lite Wheel-Side quick release system
Pedals for Gran Turismo™ DD Pro:
Two-pedal set (throttle and brake), upgradeable to three pedals (upgrade kits sold separately)
All-metal construction (excluding pedal faces). Pedals are made from heavy steel, which helps to prevent the set from sliding on the floor (if not hard-mounted to a rig)
Optional anodised aluminium pedal plates ('CSL Pedals Tuning Kit', sold separately)
Contactless Hall sensors (12-bit) on both brake and throttle for high precision and durability
Brake pedal spring is stiffer than throttle pedal spring, PU foam damper adds additional resistance for progressive braking feel
Upgrade to a three-pedal configuration with Clutch Kit or Load Cell Kit (sold separately)

CSL Pedals Clutch Kit provides a third pedal for the lowest price
CSL Pedals Load Cell Kit also provides a third pedal, and upgrades the brake and electronics

Pedal position can be adjusted sideways along heel rest
Height-adjustable pedal faces
Modular design means inverted mounting to a rig is possible
Vertical rear plates allow pedals to be easily braced against a wall or other vertical surface
Pearl chrome plating on pedal bases and arms
Black powder coating on heel rest
Pedals connect directly to Gran Turismo™ DD Pro Wheel Base
Price and availability
EU – 699,95
US – 699,95
AU – 1.229,95
JPN – 92.900,00