(Auszug aus der Pressemitteilung)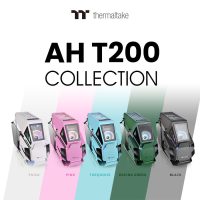 Taipei, Taiwan-November 25th, 2021-Thermaltake, the leading PC DIY premium brand for Case, Cooling, Gaming peripherals and enthusiast memory solutions, is pleased to introduce the AH T200 Micro Case in Turquoise and Racing Green Edition. The color collection of this series prolongs from black, white, pink to the latest Turquoise and Racing Green.
Being the compact version of the AH T600, this small but mighty case supports motherboards up to micro-ATX. The entire model is forged with a sturdy air-force style architecture, two 4mm tempered glass windows on two sides, three 3mm tempered glass windows at the front-top panel, and solid side vents on each end. Users can create their own style and mod as their wish at ease thanks to its dismantlable modular design. Moreover, unlike other traditional micro-ATX cases coming in a rectangular shape, the AH T200 is in a helicopter-inspired shape and has great expandability. Not only its unique form but also the multi-colored options make this case even more eye-catching. If you are looking for a fun, distinctive and unconventional-designed micro case, the AH T200 Micro Case Turquoise and Racing Green Editions are here for you!
Features of Thermaltake AH T200 Micro Chassis in Turquoise and Racing Green:
Open Frame Steel Design with Five Tempered Glass Windows
The AH T200 series is constructed with steel and five tempered glass. It comes with three 3mm tempered glass windows on the front-top panel, allowing users to show off their PC components, and the two 4mm hinged door side panels enable users to display their components as they please while the open rear end allows extensive expandability and modding possibilities.

Convenient I/O Ports
The I/O Ports of the AH T200 series Micro Chassis features one USB 3.1 (Gen 2) Type C, two USB 3.0, one HD Audio, reset button, and a stylish power button providing direct access when needed.
Cooling Solutions
The AH T200 series chassis can support up to two 140mm fans at the front and on the top. For AIO liquid cooling, it can hold up to one 240mm or 280mm AIO liquid cooler at the front.
Hardware Support
The AH T200 series is designed with excellent expandability options; it can support motherboards up to a Micro ATX, a CPU cooler with a maximum height of 150mm, GPU configurations up to 320mm in length, a power supply with a diameter of up to 180mm, and two 3.5″ or three 2.5″ storage devices.
(3.5" HDD thickness limitation: 22mm).
Availability, Warranty, and Pricing
Thermaltake AH T200 Micro Chassis Turquoise and Racing Green Editions will be available for purchase in Q4 2021 via the Thermaltake worldwide network of authorized retailers and distributors. It is backed by a three-year warranty and supported by the Thermaltake worldwide customer service and technical support network. For up-to-date pricing, please refer to the Thermaltake website or contact your local Thermaltake sales or PR representative.