(Auszug aus der Pressemitteilung)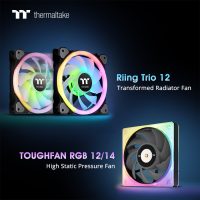 Taipei, Taiwan-January 7th, 2022-Thermaltake, the leading PC DIY premium brand for Cooling, Gaming Gear, and Enthusiast Memory solutions, today launched the new TOUGHFAN RGB 12/14 High Static Pressure Radiator Fan and the Riing Trio 12 RGB Transform Radiator Fan at the 2022 Thermaltake Expo January Virtual Exhibition to offer more fan options to RGB fan lovers.
TOUGHFAN RGB 12/14 High Static Pressure Radiator Fan
All TOUGHFAN enthusiasts, we've heard your voice! The TOUGHFAN series has received numerous accounts of positive feedback, with the opinion that it will be even more amazing if this powerful fan can also shine and illuminate in PC builds. Hence, the TOUGHFAN RGB series was designed. It's the first RGB fan in the TOUGHFAN series, packed with 24 addressable LEDs around the fan frame, and is controlled by our TT RGB PLUS 2.0 Software and NeonMaker Light Editing Software.
TOUGHFAN RGB Series's PWN controlled fans retain the TOUGHFAN's signature features of a maximum operating speed performance up to 2000 RPM while maintaining a low audio noise. The centerpiece of the fan's motor hub is made of full steel with a copper housing that reinforces the shaft, and this helps enhance stability and durability as well as lower noise levels while the fan is operating. Besides that, an optimized second-generation hydraulic bearing with a unique structural design allows lubricant to concentrate in lubricating the critical areas, better reducing friction and further extending the fan's lifespan. The fan blade is made from liquid crystal polymer (LCP) compounds that are very tensile in strength; their low thermal expansion coefficient can reduce the fan's vibration under full-speed loading.
Thanks to its special design, the TOUGHFAN RGB series now shines without compromising cooling performance. The TOUGHFAN RGB series is the best selection for those who are looking for an RGB cooling fan with the same cooling efficiency and stability as our non-RGB TOUGHFAN fans!

Riing Trio 12 RGB Transform Radiator Fan
Aiming at providing a better cooling experience, Thermaltake added a new member to the beloved Riing Trio series, the Riing Trio 12 RGB Transform Radiator Fan. Being the world's first three independent 16.8 million color LED ring design, the new edition keeps all the merits from the original Riing Trio series but further enhances its practicality by offering two detachable fan blades, one is a pre-installed standard fan blade and the other one is in reverse. With this additional feature, users are provided with more flexibility on their fan setups, users can now choose to go with either the standard installation or set up fans in reverse airflow to accommodate the lighting in the build.
To enhance the overall heat dissipation in the chassis, the Riing Trio 12 RGB Transform has been upgraded to perform up to 2000 RPM at full speed. Moreover, a unique 9 blade design ensures efficient cooling performance; thus, even equipped with the reverse blade, users would not sacrifice the cooling performance. The Riing Trio 12 RGB Transform features 30 addressable LEDs in total (Outer front: 12; Inner front: 6; Outer Back: 12) with great light coverage in uniform color and brightness. The TT RGB PLUS 2.0 and NeonMaker Light Editing Software can be supported at the same time, and synchroniz with other compatible software such as TT AI Voice Control and Amazon Alexa.