(Auszug aus der Pressemitteilung)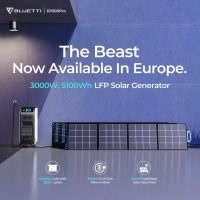 Back in March 2021, BLUETTI, a renewable energy company set its sights on the home solar energy storage market and announced the launch of its remarkable 3000Watt product, the BLUETTI EP500Pro on the crowdfunding website kickstarter.com. The campaign raised over 4 million pounds. Today, their ultimate off-grid power beast is finally landing on EUROPE.
Introduction:
BLUETTI aims to take the energy storage world by storm by releasing of its first home energy storage system series – the EP500 and EP500Pro. Compared to existing giants like the Powerwall or SonnenCore, the EP500Pro features a much smaller yet versatile 5.1kWh capacity by LiFePO4 cells. With four smooth-rolling transport wheels, the EP500Pro doesn't mean to be a large solar battery mounted on the wall or garage, it's a "No Installation Needed" and plug-N-play powerhouse that can easily be moved to the desired location whenever needed.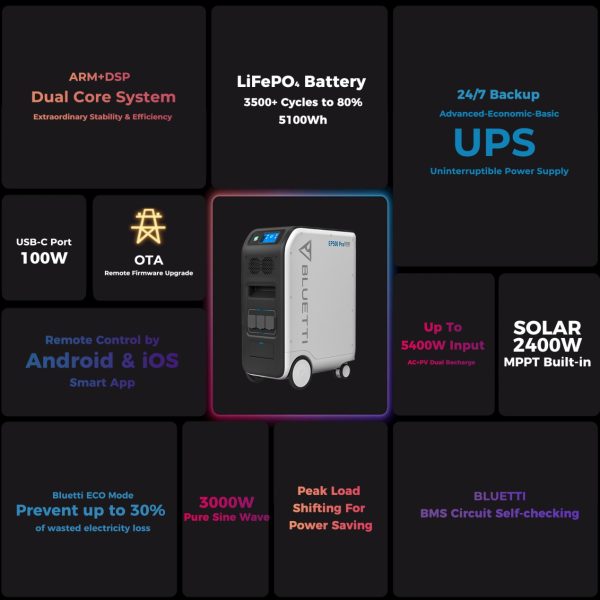 Key things to know about the BLUETTI EP500Pro:
Specs: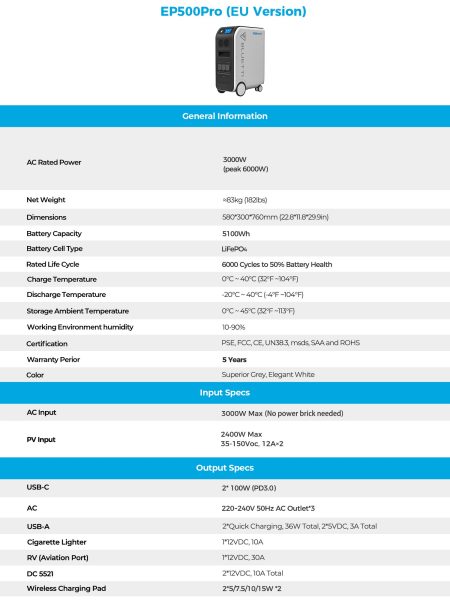 The EP500Pro is designed to cover your essential needs during power outages. Equipped with a monstrous 3000Watt pure sine wave AC inverter, a 5100Wh battery pack, and ultra-durable and safe LiFePO4 battery, the BLUETTI EP500Pro can provide backup power whenever the outage occurs or when the wall outlets are far from reach.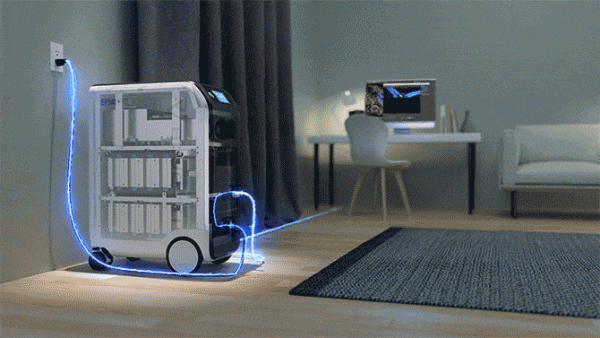 With the 24/7 UPS (Uninterrupted Power Supply) function, the EP500Pro can take over 99% of your needs off-the-grid in just 20 milliseconds (you won't even notice the difference) when the utility grid goes down, including the fridge, microwave oven, washing machine or even the garage heater.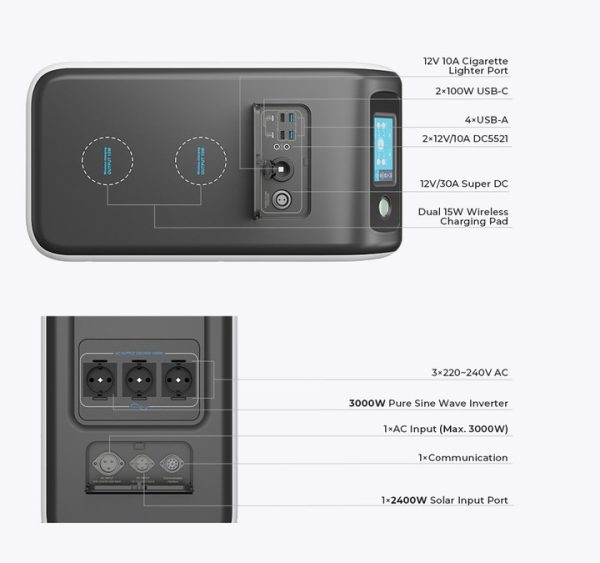 Blazing Fast Recharging
The BLUETTI team is dedicated to building a future with eco-friendly renewable energy. Antique gasoline generators, which produce toxic fumes pollution, and unbearable noise and consume non-renewable petroleum resources, are a thing of the past.
The EP500Pro is equipped with a matchless MPPT solar inverter. The 2400W maximum solar input allows it to recharge from 0 to 80% in as soon as 2 hours by prime sunshine.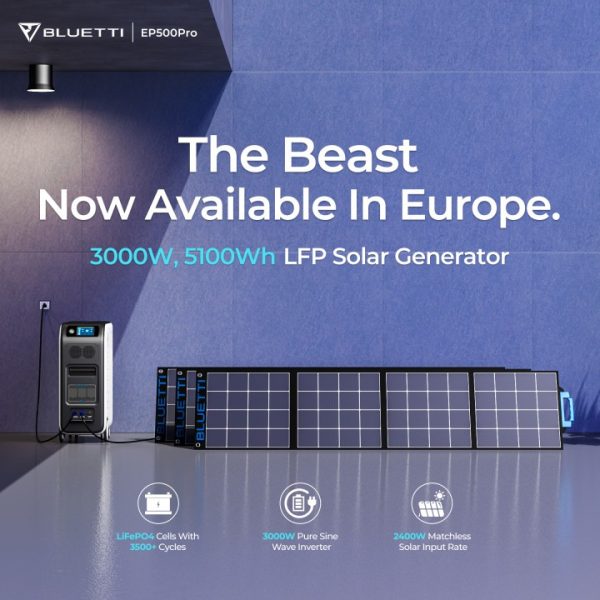 With BLUETTI's latest 350W portable solar panel – SP350 you can harness the solar power anywhere you want, at full speed.
Lighting Charging Speed By AC And Solar Simultaneously:
Last but not least, the BLUETTI EP500Pro can also be even faster recharged via solar and AC simultaneously, handling up to 5400W input rate and charging the battery pack at lightning speed (0 to 80% in only ONE HOUR).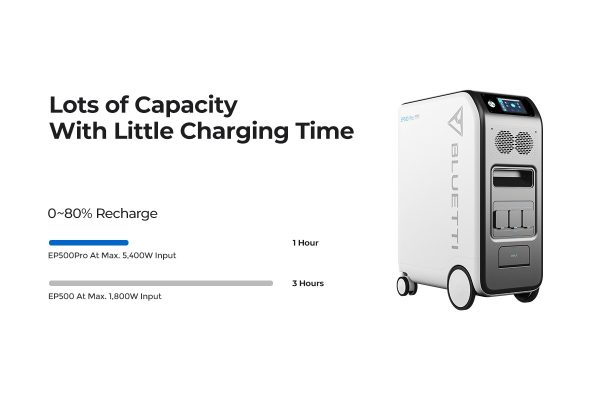 Size & Weight:
The EP500Pro unit weighs 182lbs and is as compact as a household air purifier. It can be moved around easily with 4 smooth-rolling wheels.
Compared to the mounted backup power systems like the Tesla Powerwall and LG Chem RESU, the BLUETTI EP500Pro features incredible mobility, which is perfect for a long-distance road trip.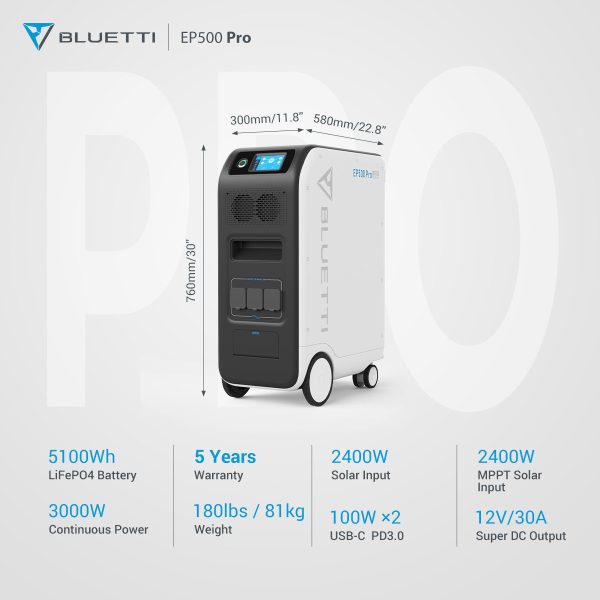 Remote App Control
As relatively mobile as the EP500Pro is, you won't want to constantly move a 180lbs beast around but keep it near you all the time. The BLUETTI EP500Pro now supports the remote App (Available on both iOS App Store and Google Play Store) to monitor and operate remotely. With BLUETTI's exclusive dual-core power control system, you can easily monitor your EP500Pro's status and adjust settings near you or a thousand miles away. No more having to walk to a unit to determine the remaining battery or inverter capacity.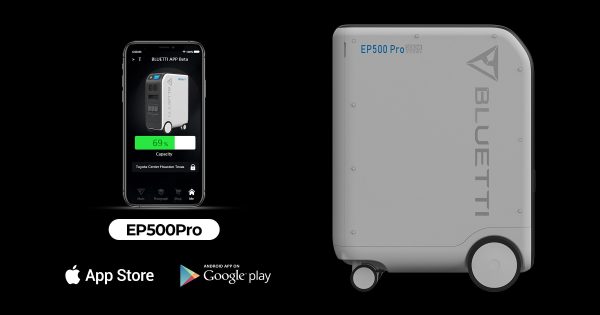 Delivery & Warranty
For customers who live in Europe, the BLUETTI EP500Pro is already in stock and the delivery would take about only 7-12 work days after the order is placed. Above all, BLUETTI is now providing a 5-year hassle-free warranty for all of the EP500 and EP500Pro products around the world, which shows their confidence in their first home dedicated power backup products.