(Auszug aus der Pressemitteilung)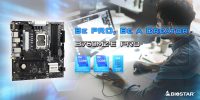 10th March 2023 Taipei, Taiwan – BIOSTAR, a leading manufacturer of motherboards, graphics cards, and storage devices today, is thrilled to showcase the latest B760MZ-E PRO motherboard.
The BIOSTAR B760MZ-E PRO motherboard is a versatile solution that meets diverse pro-user demands. Whether you are a professional creator seeking the hottest mid-range hardware on the market, a business professional requiring reliable and efficient computing power, or a casual user needing a seamless computing experience, the B760MZ-E PRO has you covered. Its cutting-edge technology, advanced DDR5 memory support, lightning-fast transfer speeds, and connectivity options make it the ultimate choice for those seeking a high-performance motherboard that can handle anything thrown its way.
Built on Intel's B760 single-chip architecture, The BIOSTAR B760MZ-E PRO motherboard supports the latest 12th/ 13th Generation Intel Core™ Processors, providing robust and stable performance for demanding applications. Its 4-DIMM DDR5 memory support and PCIe M.2 4.0 (64Gb/s) lightning-fast transfer speeds offer unrivaled computing and file transfer efficiency. Ideal for content designers, business professionals, and casual users seeking the best-performance motherboard of this range.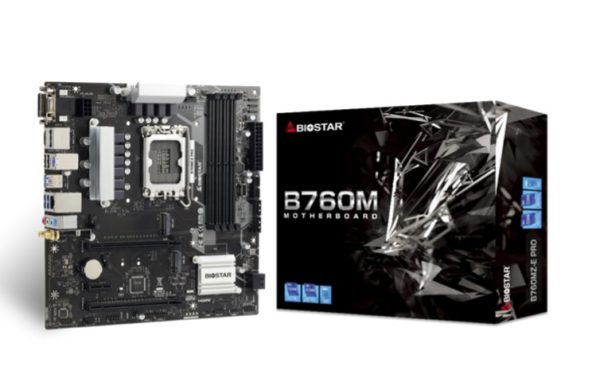 The BIOSTAR B760MZ-E PRO motherboard is a carefully designed solution that offers advanced features and convenience to professional users. With its 2.5 GbE LAN port powered by Realtek's RTL8125B LAN chipset and support for WiFi 6 & 6E modules (No WiFi card included), users can experience lightning-fast internet connectivity. Additionally, the motherboard features ample USB connectivity options, both internally and through the rear I/O panel. These options include the USB 3.2 Gen2 Type C port, which makes it easy to connect peripherals and devices to the motherboard.
The provided HDMI 1.4 port delivers crystal-clear visuals and sound, delivering an immersive gaming and high-definition content consumption experience. With the additional VGA, DVI and Display ports, the B760MZ-E PRO motherboard is ideal for multi-monitor setups, HTPC and casual gaming rigs.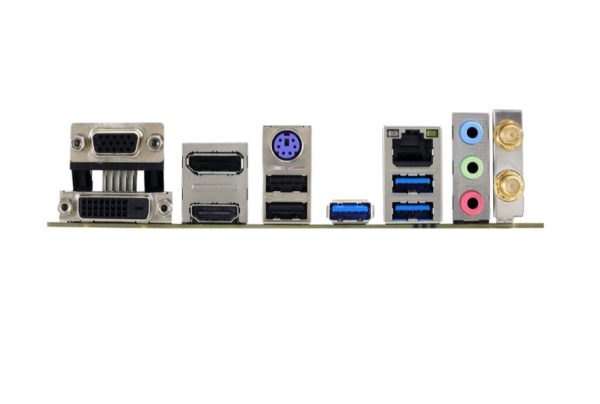 Overall, the BIOSTAR B760MZ-E PRO motherboard is an excellent choice for anyone seeking a high-performance workstation with advanced connectivity options and features. With its intelligent design choices and exceptional performance, this motherboard delivers unparalleled stability and reliability, making it an intelligent investment for personal and professional computing needs.