(Auszug aus der Pressemitteilung)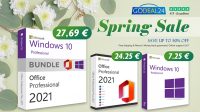 Microsoft announced a major update of Windows 11. In the latest Windows update, a new version of Bing that integrates the ChatGPT function will appear on the search bar of the computer, making it easier for users to call AI search robots, enhancing performance and simplifying workflow. This new update reshapes the future of artificial intelligence, putting Microsoft at the forefront of cutting-edge innovation. With a strong commitment to AI, Microsoft is upgrading Edge with AI capabilities and integrating it into Office apps for a seamless user experience. This means users can enjoy an enhanced user experience and productivity boost like never. With the addition of revolutionary tools and next-generation capabilities, Microsoft is leading the charge toward more efficient and collaborative work environments. So don't wait any longer to upgrade and experience the power of AI for yourself. Stay ahead of the competition with Microsoft's cutting-edge technology and advanced AI capabilities, and take your productivity and collaboration to new heights today!
Looking for great deals on genuine Microsoft software licenses at low prices? Look no further than Godeal24 Spring Sale! Get a lifetime license for Office 2021 Pro for just 24.25€ or a genuine license for Windows 10 Pro for just 7.25€. Plus, take advantage of their limited-time offer and get Windows 11 Pro for only 10.25€! With the latest Bing integrating the Open AI GPT function, you can now search more efficiently and conveniently. Upgrade your system and increase your productivity with Godeal24's Spring Sale today. Save big on other popular Microsoft software, and take advantage of their limited-time specials while they last.
Popular items, limited time snap up! Windows OS and MS Office!
Buy More and Save More: Get your cost-effective bundle today and start saving!
Up to 50% off on More Windows and Office! (coupon code "SGO50")
More PC tools at the Best Price!
At Godeal24, you can save a lot of time and money with discounted Microsoft licenses, major IT security software and other computer tools like IOBIT, Ashampoo, Disk Drill and many more. Get Windows OS and MS Office at an unbeatable price. With Godeal24, you can rest easy knowing your software is 100% safe and genuine, backed by a lifetime support and update guarantee from Microsoft.
Experience hassle-free shopping with Godeal24's digital delivery, which sends your software directly to your email within seconds of purchase. Plus, with a TrustPilot 98% Excellent rating and 24/7 expert technical support, you can be confident in the quality of the product you're buying. Don't miss this chance to save up to 90% on the software you need for work or play.
Godeal24 promises that they offer 24/7 professional technical support and lifetime after-sales service and that you can use the product without problems!
Contact Godeal24: service@godeal24.com