(Auszug aus der Pressemitteilung)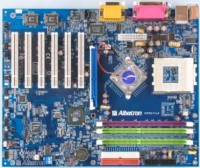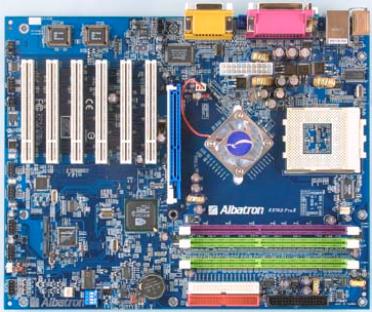 Albatron Technology, a manufacturer of Mainboards, Graphics Cards and Display Equipment, recently announced the KX18D Pro II Mainboard, which is based on nVIDIA®'s latest and most advanced chipsets, the nForce2 Ultra 400 (NB) and MCP-T (SB). Built for power and performance, this Mainboard features FSB400 as well as support for high-end AMD Athlon™ XP processors. This board also provides extra punch with Dual-Channel DDR400 capabilities and AGP 8X support. In short, Albatron's KX18D Pro II comes packed with many of the latest performance enhancing features available today.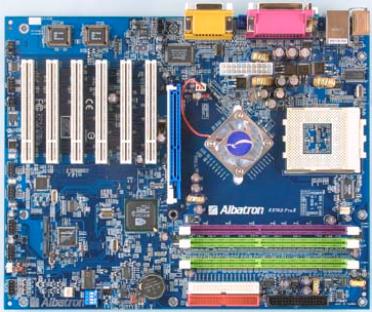 nVIDIA®'s nForce2 is part of a second generation of nVIDIA® nForce™ platforms. The Ultra 400 Northbridge included with this platform supports AGP 8X with bandwidth speeds capable of reaching 2.1 GB/s, doubling the processing power of its AGP 4X predecessors. It also boasts a 128-bit Dual DDR Memory architecture which doubles the bandwidth of standard DDR implementations. Additionally, the nForce2 Ultra 400 integrates SoundStorm™ 3D positional audio into its Audio Processing Unit (APU) enabling a Dolby® Digital 5.1 real-time encoder to produce studio-quality surround sound stereo. Finally, StreamThru™ architecture with the revolutionary HyperTranport™ technology are included to provide unparalleled streaming video and audio delivery.
A complete suite of communication and peripheral support is provided with this mainboard including 6 USB2.0 ports, 2 IEEE1394 ports, a 10/100 Ethernet LAN port and Digital/Optical Audio out SPDIF In/Out connectivity. 6-Channel Audio support provides professional audio quality stereo and HD support includes ATA133 IDE (2 ports) and Serial ATA (2 ports).
The KX18D Pro II mainboard also includes a Socket A supporting popular AMD processors including the AMD Athlon™, AMD Athlon™ XP, and the AMD Duron™. When an Athlon™ XP processor is used with this mainboard, the OTP (Over Temperature Protection) feature can be enabled to protect your CPU from heat damage by issuing an auto shutdown to the system when the CPU reaches critical temperature levels.
The KX18D Pro II includes an impressive blend of performance, variety and versatility. FSB400, Dual DDR400, and AGP 8X lead the way in tackling even the most CPU intensive, bandwidth consuming, memory based applications available on the market today.