(Auszug aus der Pressemitteilung)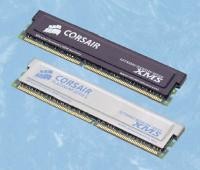 Fremont, CA, December 10, 2003 – Corsair Memory, Inc., a global leader in ultra-performance DDR memory

modules for PC gamers and enthusiasts, today announced the world's first XMS4400 products. The two new
parts, TwinX1024-4400 and CMX512-4400, will begin shipping immediately. Based on 550MHz DDR
technology, Corsair's new XMS4400 parts deliver extreme memory performance when used with the Asus
P4C800E and other hyper-overclockable 875P-based dual channel DDR motherboards.
Corsair designed these new modules to support clock speeds that are ten percent faster than the company's current
flagship XMS4000 products. To select the fastest available components Corsair's Compatibility Lab performed
exhaustive benchmark tests on a broad range of RAM chips from a multitude of different chip makers.
Every XMS module built must pass a stringent battery of tests at its rated speed before being shipped. XMS4400
modules are tested at 550MHz with 3-4-4-8 latency settings at 2.75V. All XMS4400 modules are tested in an
Asus P4C800-E dual channel DDR motherboard based on the Intel 875P "Canterwood" chipset. TwinX kits are
tested as a matched pair and physically packaged together immediately after passing test, guaranteeing that the
customer receives a product that has been verified in the dual channel environment.
"Our XMS4400 products are so fast we had a hard time finding test platforms for our production lines" said
Corsair VP of Product Development, John Beekley. "These modules really test the limits of most CPU's and
motherboards. Our XMS4400 products substantially raise the performance envelope for extreme overclockers"
Mr. Beekley continued. Corsair's Compatibility Lab had to speed sort CPUs and motherboards to find platforms
fast enough for their production testing. Actual user results may vary depending on the overclocking margin of the
CPU, motherboard and other system components.
The TwinX1024-4400 is a 1 GByte, 550 MHz DIMM module pair consisting of two matched CMX512-4400
DIMMs. Both parts are available from resellers worldwide with either black or platinum colored aluminum heat
spreaders that enhance performance by keeping the components cool.
Further information and specifications on this product and other XMS products can be found at Corsair's web site. These modules can be purchased through Corsair's authorized sales channels listed at www.corsairmemory.com/corsair/buy.html.