(Auszug aus der Pressemitteilung)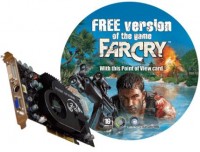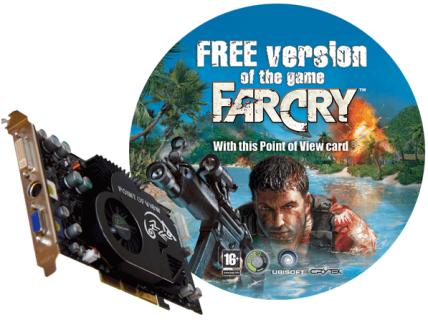 EINDHOVEN – October 21st, 2004 – Since our prior bundle became an overwhelming success, we decided to release another exciting card-game bundle. This time we chose the popular UBISOFT game Far Cry to be bundled with one of the coolest cards you will find on the market: the Point of View GeForce FX 5900XT, our sinister black card.

Experience high-end level gaming through the combined forces of the Point of View GeForce FX5900XT and UBISOFT's Far Cry. But be quick, because the offer will last for only a limited period of time!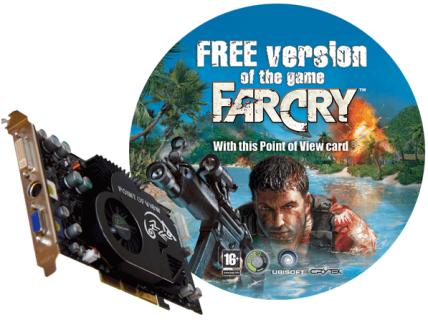 The Point of View GeForce FX5900XT key features are:
Beautiful black design
As the first graphics card on the market the Point of View FX5900XT introduced a complete black card design. It was the first time a company acknowledged that looks matter. Due to its equipment with faster DDR3 memory, the Point of View FX5900XT crushed all it's competitors
CineFX 2.0 Engine
The second-generation CineFX 2.0 engine powers advanced pixel and vertex shader processing and true 128-bit color precision. Delivering double the floating-point pixel shader power of the previous CineFX engine, CineFX 2.0 produces a visible performance boost through its more efficient execution of pixel shader programs.
UltraShadow Technology
Powers the next-generation of complex, realistic shadow effects by accelerating shadow generation. Accurate shadows that effectively mimic reality without bogging down frame rates are one of the keys to more believable game environments.
IntelliSample HCT
Second-generation Intellisample technology delivers up to a 50-percent increase in compression efficiency for compressing color, texture, and z-data, and powers unprecedented visual quality for resolutions up to 1600 x 1280.
Look for the sticker on the box to make sure you have the special Point of View Far Cry bundle!