(Auszug aus der Pressemitteilung)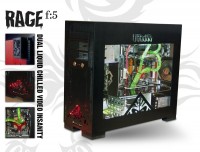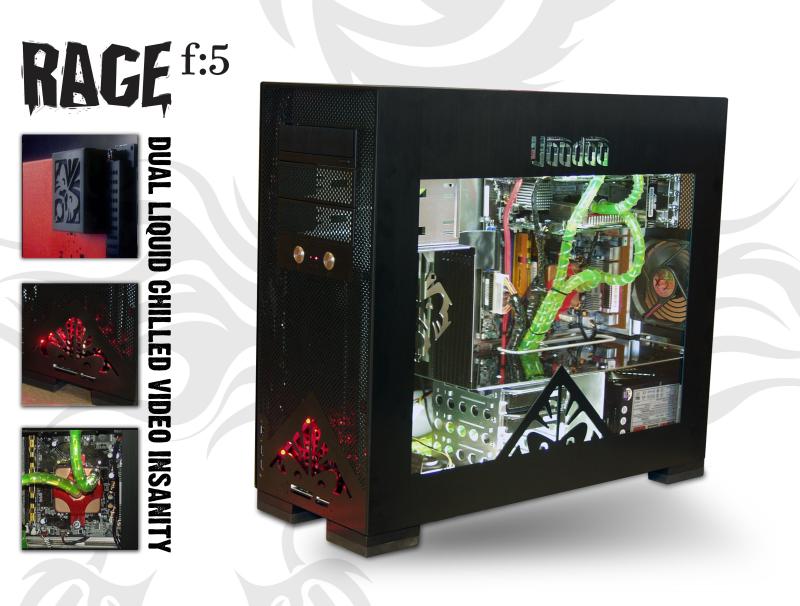 December 13, 2004 – CALGARY, ALBERTA – VoodooPC, a world leader in the design and manufacturing of high-performance personalized computer systems, today announced the launch of the RAGE f:5, a radically different, extremely provocative, high performance personal computer featuring advanced liquid cooling technology.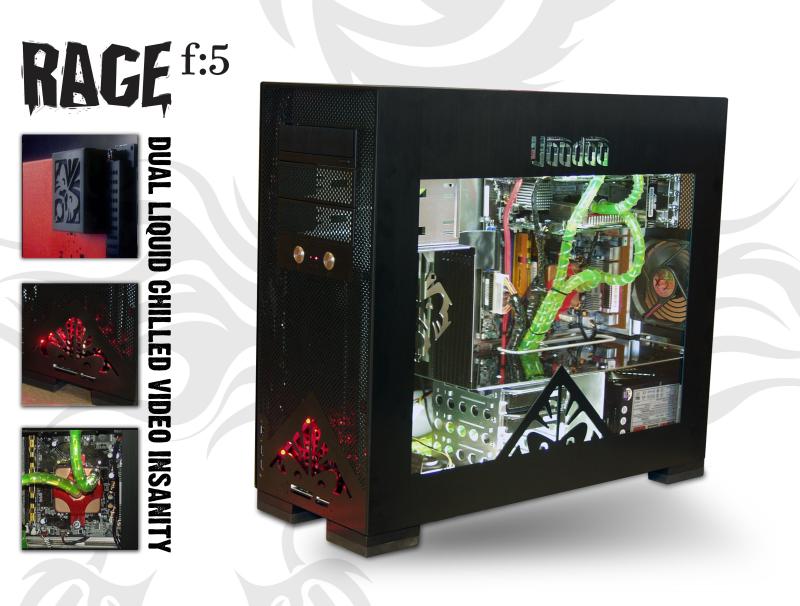 The Voodoo RAGE f:5 features a completely new chassis design, which incorporates the best of two major form factors, ATX and BTX. Voodoo then incorporates industry standard hardware in a layout that promotes airflow, silence, and deadly performance. Featuring separate chambers for the advanced liquid cooling apparatus, the hard drives, and the power supply, this chamber system acts as a virtual stage for the motherboard which is inverted to promote airflow and silence.
"The RAGE f:5 offers top performance, low noise output, and groundbreaking design," said Trentent Tye, VoodooPC "When we created the RAGE f:5 we threw all the rules out the window, and started with a clean slate. We incorporated the best technologies from world leaders like AMD, Nvidia, and ASUS to create this masterpiece."
One of the most notable features of the Voodoo RAGE f:5 is the liquid cooling system. All major components including the Nvidia nForce4 chipset, dual Nvidia SLi video cards, and the AMD Athlon 64 FX-55 CPU are cooled with liquid rather than loud obnoxious fans. By combining such technologies Voodoo is able to almost double the performance of PC graphics, thereby increasing the level of detail in all PC games to the maximum potential.
"Rather than conforming to an industry standard layout, we created our own layout which offers superior airflow and the cleanest interior cabling on any Windows based PC," said Rahul Sood, president & CTO, VoodooPC. "Our new chassis features a radically different design; its smooth lines and aggressive interior speak volumes about our passion for PCs."
The Voodoo RAGE f:5 is an incredibly provocative, high performance personal computer fabricated from brushed anodized machined aluminums, and features a mirrored chrome interior, and an advanced internal layout.