(Auszug aus der Pressemitteilung)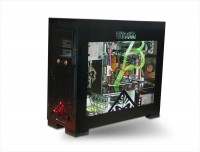 Calgary, Alberta – VoodooPC, a world leader in the design and manufacturing of high-performance personalized computer systems, today announced the launch of a new professional workstation featuring dual AMD Opteron Processors, and dual NVIDIA Video Cards supporting up to four large format 30" Cinema HD Displays – all in a silent liquid cooled package.
"The Voodoo OMEN d:221a is the currently the only liquid cooled workstation featuring Dual Opteron processors and NVIDIA SLI support," said Rahul Sood, President and CTO, VoodooPC. "With next generation technology like Hitachi's 15,000 RPM Hard Drives, NVIDIA SLI technology, and silent cooling, this is the fastest and quietest workstation we make."
By using two NVIDIA video cards, the user now has the capability of running up to 4 high resolution monitors, such as the new Apple 30" Cinema HD Display, simultaneously on the same PC. Voodoo combines the best processors, hard drives, and video cards available in a completely sealed liquid cooled system, eliminating distracting noise of loud fans.
Designed for professionals, the OMEN DCC is capable of movie production, game development, CAD applications, financial applications, 3D animation, diagnostic imaging, digital audio and much more.
"The Apple 30" is a fantastic display," said Trevor Kells, production manager, VoodooPC. "Typically users would have to buy a G5 in order to run one of these displays, or struggle with drivers on a PC to make it work. This is no longer the case, you can now buy the fastest workstation on earth, and run up to four of these displays at their highest resolution."
Voodoo OMEN d:221a features: Silent Professional-Level Computing, Dual AMD Opteron Processors, Dual NVIDIA Video Cards, and support for up to four 30" Apple Cinema HD Display plus future high resolution displays from other manufacturers.
VoodooPC is known for building some of the worlds finest computer systems. Voodoo OMEN is an award winning PC, receiving awards Maximum PC magazine, PC Gamer magazine, and Custom PC magazine.