(Auszug aus der Pressemitteilung)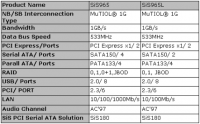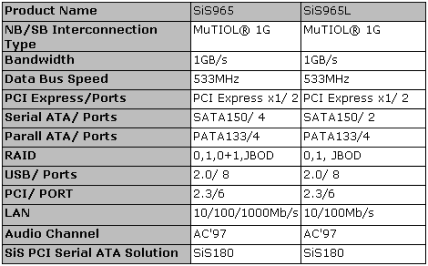 Taipei, May 26, 2005 – Silicon Integrated Systems Corp (SiS) and Agere Systems (NYSE: AGR.A, AGR.B) announced today that the SiS965/SiS965L South Bridge chip has completed full PCI Express interoperability for PCI Express Gigabit networking. In test conducted by Agere, the SiS965/SiS965L passed full network compatibility testing for use with PCI Express Bus Interface Gigabit Ethernet controllers. With the ET1310, a cutting-edge Gigabit Ethernet chips developed by Agere, SiS965/965L is able to deliver the outstanding networking performance at a highest level.
"Undoubtedly, Agere does play a leading role to keep delivering cutting-edge products to the networking market. The extra high speed Gigabit Ethernet chips ET1310 is the latest application for the PCI Express interface." Said Daniel Chen, CEO of Silicon Integrated Systems Corp. "Once again, we show case the fully support for PCI Express interface of SiS965/965L through the result of this test. By closely working with our partners from different fields, SiS guarantees to keep improving the quality and performance of our product, in order to deliver the best products and service to our customers."
"The ET1310, Agere Systems PCI-Express Gigabit Ethernet product, has reached performance throughput of nearly 1700 Mbps on the SiS 965 motherboard. This demonstrates superior performance during system interoperability testing of the ET1310 at gigabit rates with SiS' exceptional motherboard configuration. The natural synergy of Agere's ET1310 and SiS965/965L combined with our working relationship makes us the winning combination." Samir Samhouri, VP/GM Ethernet Division, Agere Systems.
Created with groundbreaking technology, PCI Express Gigabit Ethernet is able to achieve transmission speeds of up to 1000MB/s, thus greatly enhancing and improving Internet audio/video applications. PCI Express Gigabit Ethernet controllers' high compatibility makes network and system upgrades easy and worry-free.
PCI Express' high speed I/O Bus interface provides data transmission speeds of up to 250 MB/s, almost twice the speed of traditional PCI (133 MB/s). These higher transfer rates help raise the efficiency of interface peripheral devices such as network cards and video capture cards and provide a more powerful operating environment.
More detail about SiS965/965L