(Auszug aus der Pressemitteilung)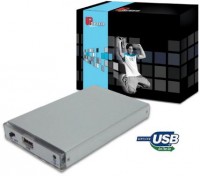 Eindhoven, May 26, 2005 – The OTG HDD Enclosure is a HDD enclosure that lets you download your pictures directly from

your digital camera to your portable hard drive. No more need for extra memory cards or bringing your laptop. Just connect the OTG HDD Enclosure to your digital camera through USB, download all the pictures by pressing the 'Copy' button and continue shooting.
The specifications of the OTG HDD Enclosure are:
Supported Hard disk: 2.5" (not included)
USB 2.0 interface
Works with Windows and Mac
The OTG comes with: battery case, USB 2.0 cable, instruction manual and pouch.