(Auszug aus der Pressemitteilung)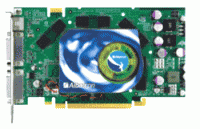 March 24, 2006 – Albatron Technology has recently come out with the new 7900GT graphics card boasting a smaller streamlined size but still packing extreme game play capabilities. This gives gamers with smaller form factor systems the power to tackle even the most intensive 3D graphics software available today.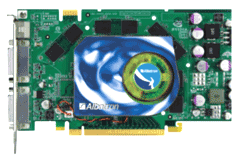 Most smaller case systems such as Cube PCs are limited in space, both in length and width. The limited space can prohibit them from using the latest high performance VGA cards which are longer and thicker. The thickness on these high performance cards is due to the fat heat sinks and noisy fans used to cool down overheating high performance components. These cards are so thick that they can easily cover and block adjacent slots on a smaller form factor board.
Albatron is now touting the 7900GT as the highest performing VGA solution for BareBone systems, Cube PCs and other small form factor systems. The 7900GT is at least 3 cm shorter than its big brother 7900GTX and half as thick. However, with the smaller size, there is no compromise on game play capabilities. The 7900GT is based on the latest generation of NVIDIA® GPU technology and can more than handle all the top 3D graphics games on the market.
The 7900 GT card features a powerful memory package, boasting a 256-bit memory bus and 256 MBs of DDR3 memory with a lightning fast 1360 MHz memory clock. The card's core can clock up to a speedy 450 MHz and is engineered using 0.09 micron process technology. This card also includes 20 pipelines for highly efficient, highly optimized graphics processing and supports the SLI configuration.
The NVIDIA GeForce 7900 GT GPU is also equipped with the most recent suite of graphics technology including the latest Intellisample 4.0, Ultrashadow II and CineFX 4.0. This GPU also features NVIDIA's PureVideo, a full featured video encoder/decoder producing the finest quality video playback for a variety of formats including HDTV.
The 7900GT will provide Dual DVI connectors. This board also contains a connector for use with an HDTV cable (bundled) supporting HDTV, S-Video and AV.
Gaming enthusiasts with Cube PCs and other small form factor systems will no longer be the ones left out of the loop. The Albatron GeForce 7900 GT VGA card comes through with streamlined dimensions combined with one of NVIDIA's top-end performance GPUs for FULL graphics versatility to tackle the latest gaming software.