(Auszug aus der Pressemitteilung)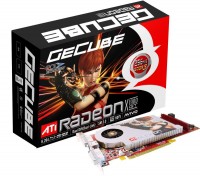 Taipei, May 9, 2006 – GECUBE, one of the world's leading brands in the graphics card business, today announced its new GECUBE X1900GT product line, further strengthening its offerings for ATI's top-of-the-line graphics platform.
The GECUBE X1900GT product line supports the newest designs based on Shade Model 3.0 with the best frame rates in the industry. Moreover, the GECUBE X1900GT line includes 36 internal pixel shaders with a core memory refresh rate of up to 575MHz/1.2GHz. The superior quality of 3D image rendering is as close to perfect as you can get.
Continuing the outstanding performance of the RADEON X1900 line, the X1900GT line can simultaneously initiate HDR and anti aliasing (AA) functions. The high dynamic range (HDR) capability processes light sources cast on highly animated objects in such a way that human eyes perceive images as virtual objects. With tiny variations in background light, the performance approaches reality. Moreover, the product simultaneously executes anti aliasing (AA), which in terms of processing graphics and background features achieves new levels of quality and detail.
The GECUBE X1900GT line supports CrossFire platforms with advanced functions such as AFR, SuperTiling, Scissor and extremely advanced graphics provided by SuperAA Rendering mode. Resolution can reach 2048×1536@70+ while execution with existing dual graphics cards can initiate 12xMulti Sampling AA effects as well as 2x Super Sampling AA mode, achieving 14x AA and allowing the system to maintain overall performance while taking graphics and image quality to a level that will amaze you.