(Auszug aus der Pressemitteilung)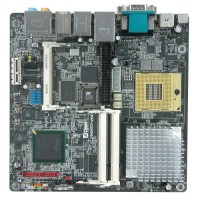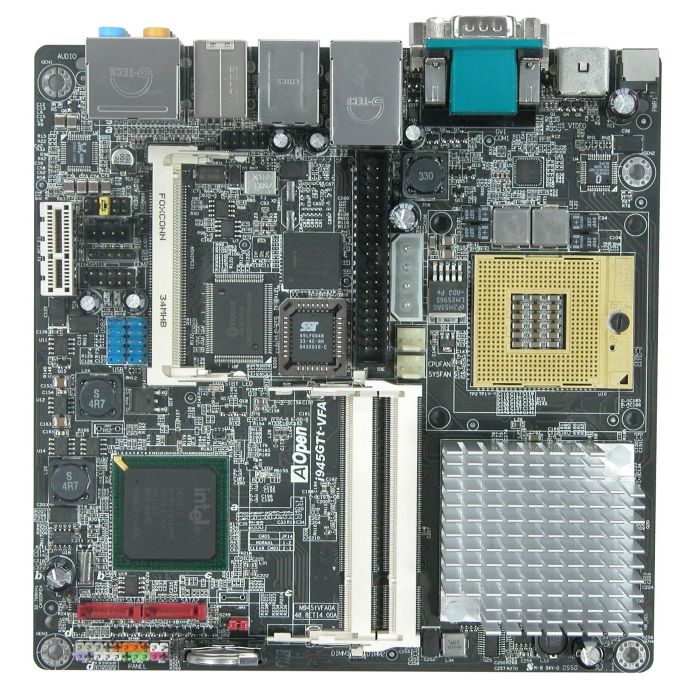 's-Hertogenbosch, June 2006 – AOpen now offers a range of Flex ATX motherboards (170mm x 170mm): the i945GTt-VFA and i945GMt-FA (see specifications for more details). The i945GTt-VFA applies MoDT (Mobile on DeskTop) technology in the form of Intel's Core Duo or Core 2 Duo CPU – the latest generation in mobile, energy-efficient and high performance processors. AOpen is a leading supplier of Mobile on Desktop Technology, combining energy-efficient working platforms with compact working dimensions. When used with Intel ViiV technology or ORB software, the i945GTt-VFA provides an excellent base for building a universal, high-quality home entertainment centre.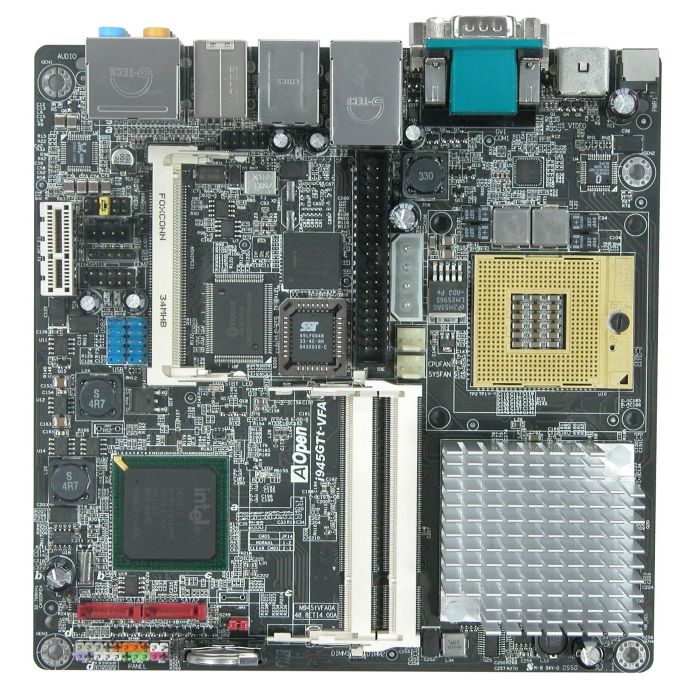 Click to enlarge
AOpen's highly compact i945GTt-VFA is equipped with two SO-DIMM DDR II memory slots for up to 2GB of memory, one DVI connector, HDTV/TV support, mini PCI, PCIe x 1 and features a 945GT on-board chipset. A Realtek ALC8820 Codec (7.1 channel) audio chip enhances sound quality and offers a complete integrated audio solution for the latest multimedia PCs.
Performance : With Intel's Core Duo and Core 2 Duo CPU, AOpen's i945GTt-VFA offers powerful PC processing performance. Its dual-core technology sets new standards, delivering optimized, energy-efficient computing power that effortlessly handles simultaneous high-demand applications like spreadsheets, intensive 3D and 2D graphics programs, digital music file downloads, video editing and anti-virus scans.
Energy-efficient : AOpen's i945GTt-VFA features a ground-breaking combination of mobile on desktop technology; a mobile CPU and SO-DIMM DDRII memory to offer high performance with amazingly low power consumption. In comparison to traditional desktop PCs, its enhanced power efficiency allows the use of a CPU cooler to reduce PC noise. These are all tangible benefits that create a win-win situation for both end-users and PC manufacturers.
Vivid & Universal : AOpen's i945GTt-VFA cleverly integrates DVI and S-Video to allow the connection of multiple home and digital office applications. The i945GTt-VFA also supports Intel ViiV technology and ORB software, making it eminently suitable for digital entertainment. You can download your favorite movies and songs and record live TV with an optional TV tuner card and remote. You can even share photos and play games with other global gamers. In combination with the right applications, an LCD computer display, projectors, a D-Sub PC monitor and HDTV/TV, this versatile motherboard can be used to create a vivid, vibrant entertainment centre. Worried about missing your World Cup game? AOpen's i945GTt-VFA solves all your problems!! Without limitations! Bringing World Cup entertainment to you wherever you are!
Compact : Mini-ITX form factor for mini-PC M/B applications. Space-saving dimensions of only 170mm x 170mm.
Versatile : AOpen's i945GTt-VFA is suitable for a wide range of different applications including in-car PCs, kiosks, displays, monitors, gaming machines, etc. The choice is yours.
MoDT Flex 945 Specifications:
Model Name: i945GTt-VFA i945GMt-FA
Form Factor: Flex ATX
PCB size: 170mm x 170mm
CPU: Intel Core Duo & Core Solo
CPU socket: 479 socket
Chipset: 945GT + ICH7MDH / 945GM + ICH7M
Memory type: Dual Channel DDR II 667/533
Memory slot: SO-DIMM DDR II x 2
Memory size: Maximum 2GB
Ethernet LAN Chip: Intel 83573L G LAN / Realtek PCIe G LAN
Audio Chip: Realtek ALC882D 7+1 audio channels
Firewire 1394: Agere FW3226-1394A
Rear Connectors: DVI x 1, s-VIDEO x 1, Ethernet LAN x 1, COM x 1, Azalia Audio Rack x 1, USB 2.0 x 4, 1394 x 1, PS/2 x 2 19V DC in x 1
On board Slots & Internal Connectors: Socket 479, SO-DIMM DDRII x 2, PCIe * 1 x 1, s-ATA x 2, Firewire – 1394 x 1, CD-In x 1,Cooling fan x 2, Panel x 1, IDE x 1, USB 2.0 x 4, COM x 1, Front Audio x 1, 12V/5V DC OUT- 4-pin Power connector x 1
Power: 90 W AC-DC Adaptor