(Auszug aus der Pressemitteilung)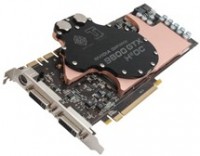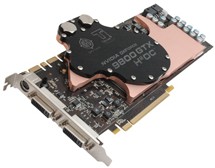 Lake Forest, IL – (May 28, 2008) – BFG Technologies®, Inc., the leading North American and European supplier of advanced NVIDIA-based 3D graphics cards,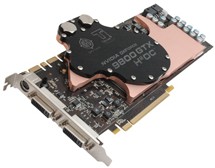 power supplies, and other PC enthusiast products, announced today the BFG NVIDIA® GeForce® 9800 GTX H2OC 512MB graphics card featuring a ThermoIntelligence® custom copper water block co-developed by BFG and Danger Den™.
The BFG GeForce® 9800 GTX H"OC™ 512MB graphics card with ThermoIntelligence® water cooling solution is factory overclocked to the highest stable level, and offers exceptional thermal performance in a single slot design, freeing up valuable space for other add-in cards.


"With the addition of our custom high-performance water block, we've been able to safely overclock the 9800 GTX to an unprecedented 780MHz on the core clock, and 1944MHz on the shader clock ", said John Malley, senior director of marketing for BFG Technologies. "Each card is hand-built by a trained BFG technician using Arctic Silver® thermal compound, and is exceptionally cool and totally silent—delivering up to a 28°C lower GPU operating temperature than reference cooling solutions."
The pre-attached ThermoIntelligence copper water block replaces the standard double slot 9800 GTX cooling solution for those who currently own or are purchasing a PC water cooling system. Each card includes 1/2" and 3/8" fittings (barbs) allowing for seamless integration into most water cooling system loops. Micro fittings are also included to support 2-way or 3-way NVIDIA SLI™ configurations.
9800 GTX H2OC 512MB Graphics Card with ThermoIntelligence
Core Clock: 780MHz (vs. 675MHz standard)
Shader Clock: 1944MHz (vs. 1688MHz standard)
Memory Data Rate: 2320MHz (vs. 2200MHz standard)
Availability
The BFG NVIDIA GeForce 9800 GTX H"OC™ 512MB graphics card will be available in limited quantities at leading online retail outlets throughout North America and Europe beginning the week of May 26.