(Auszug aus der Pressemitteilung)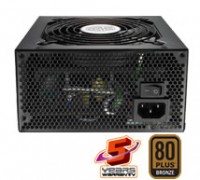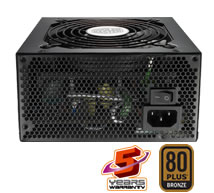 Taipei, Taiwan –November 13, 2008 – Cooler Master has consistently pushed the limits in the realm of power supplies with the first six-rail power supply and with the recent achievement of the world's first 80 Plus Silver certified power supply. Cooler Master now brings the leading technical know-how to our entry level power with Real Power Pro 360W, 400W and 460W, which is 80 Plus Bronze certified.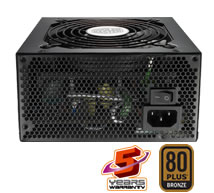 Cooler Master's latest additions to the Real Power Pro family include enhanced active PFC (power factor correction) circuit which reaches up to 85% efficiency. Higher efficiency also means lesser heat dissipation, which works seamlessly with intelligent 120mm fan speed control for ultra silent operation.
Real Power Pro 360W, 400W and 460W are positioned to offer a better office, school and online gaming computing environment, by providing a stable and clean power source, also compliant with the latest Intel standard ATX12V V2.31.
Cooler Master Real Power Pro 360W400W/460W features:
1. Compatible with latest Intel standard ATX12V V2.31
2. Support dual +12V1 and +12V2 outputs for higher power usage
3. Energy efficiency design that meets 80 Plus requirements (>82%)
4. Green power design to meet Energy Star and Blue Angel requirements
5. Multiple protection design (OVP / UVP / OCP / OPP /OTP / SCP)
6. Ultra-silent operation with intelligent 120mm fan speed control
7. High reliability (MTBF>100,000 hours)
Specification:
| | | | |
| --- | --- | --- | --- |
| | 360W | 400W | 460W |
| Model | RS-360-ASAA-D3 | RS-400-ASAA-D3 | RS-460-ASAA-D3 |
| Type | Intel ATX12V V2.31 | Intel ATX12V V2.31 | Intel ATX12V V2.31 |
| PFC | >0.9 | >0.9 | >0.9 |
| Input Voltage | 90~264V | 90~264V | 90~264V |
| Input Current | 7A@115Vac, 4A@230Vac | 8A@115Vac, 4A@230Vac | 8A@115Vac, 4A@230Vac |
| Input Frequency Range | 47~63Hz | 47~63Hz | 47~63Hz |
| Max. Output Capacity | 432W | 480W | 552W |
| Fan | 120mm Fan | 120mm Fan | 120mm Fan |
| Efficiency | >85% Typically | >85% Typically | >85% Typically |
| MTBF | >100,000hrs | >100,000hrs | >100,000hrs |
| Protection | OVP / UVP / OCP / OPP /OTP / SCP | OVP / UVP / OCP / OPP /OTP / SCP | OVP / UVP / OCP / OPP /OTP / SCP |
| Regulatory | Nemko / TUV / CE / UL / FCC / BSMI / CCC/ GOST / C-tick | Nemko / TUV / CE / UL / FCC / BSMI / CCC/ GOST / C-tick | Nemko / TUV / CE / UL / FCC / BSMI / CCC/ GOST / C-tick |
| Certification | 80 Plus Bronze | 80 Plus Bronze | 80 Plus Bronze |
80 Plus Bronze Efficiency Levels:
80 PLUS Bronze Multiple Output Requirements
360W Actual Testing Results
400W Actual Testing Results
460W Actual Testing Results
Percent Loading
Efficiency
Efficiency
Efficiency
Efficiency
20%
82%
83.41%
84.24%
85.14%
50%
85%
86.04%
86.27%
86.09%
100%
82%
84.86%
84.38%
83.57%