(Auszug aus der Pressemitteilung)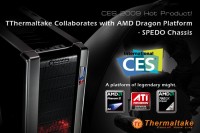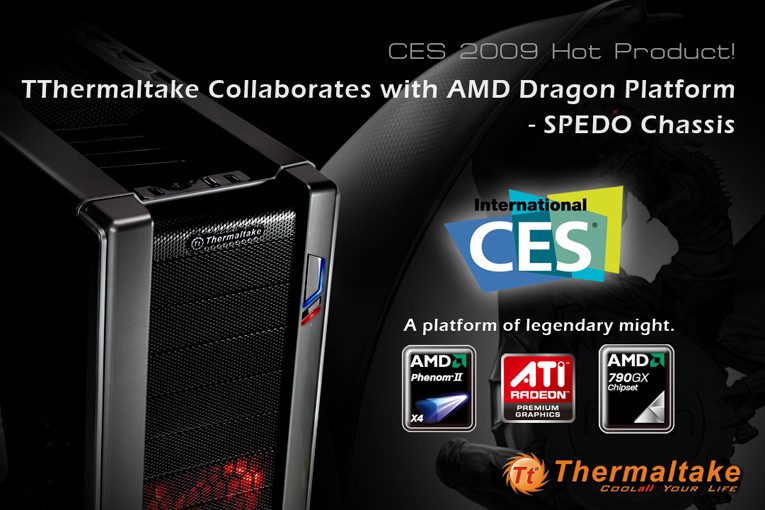 Jan, 2009 – Thermaltake, as AMD's outstanding partner, has worked with AMD in the Phenom project. Because of the exceptional structural strength and thermal efficiency of Thermaltake chassis, partnership between AMD and Thermaltake has also continued in the project of AMD Dragon platform. Today, In CES 2009, Thermaltake is pleased to announce its revolutionary chassis, Spedo Advance Package have been certified as AMD GAME!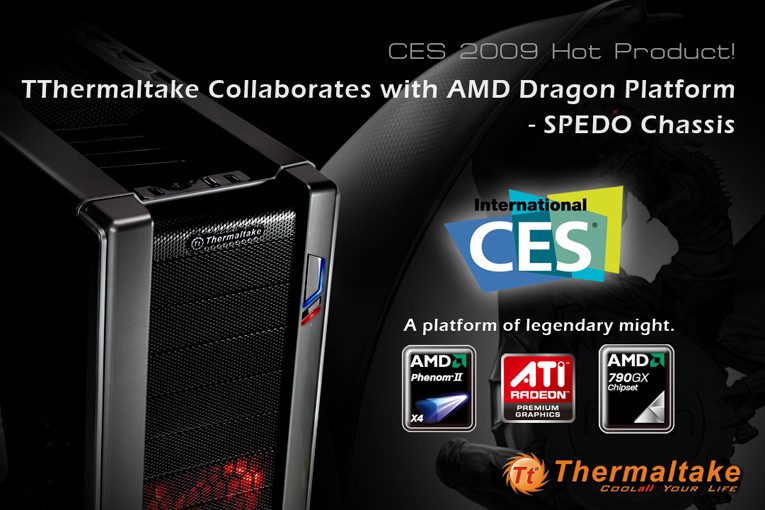 Thermaltake has implemented two breakthrough designs into the new SPEDO Chassis; "A.T.C." (Advanced Thermal Chamber) and "CRM" (Cable Routing Management). While "ATC" design provides excellent thermal-management by separating chambers for the CPU, GPUs and PSU, "CRM" offers users a neat and tidy interior with superior cable arrangement. Not to mention the excellent integration of advanced tool-free mechanism for HDD and PCI installation; bottom-placed PSU design and the adjustable fan bar; SPEDO will provide the minimized and the most enjoyable system installation experience! The hot swap design of side fan and the adjustable fan bar allow easier system maintenance, VGA/ CPU thermal management can also be easily solved by simple adjustments of the fan bar to fit with various system requirements.
Other than the structural perfection internally, the meshed exterior design of SPEDO allows the ambient air to enter unrestrictedly into the chassis. Ventilation can even be further upgraded with up to nine system fans. With the C-shaped unique styling, SPEDO will bring you the most pleasure as a true PC enthusiast both from the experiential and functional perspectives.
Thermaltake prides itself on product quality and reliability, and this year at CES 2009, Thermaltake will once again; shock the PC enthusiasts around the world with this new design masterpiece — SPEDO Chassis.