(Auszug aus der Pressemitteilung)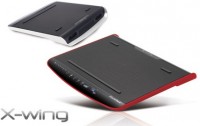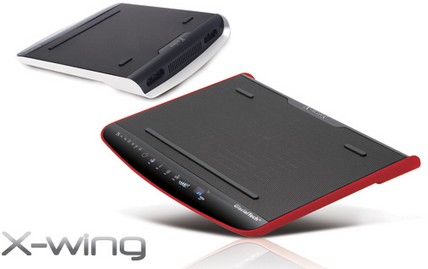 25, March, 2009, Taiwan, Taipei – GlacialTech, the diversified provider of cooling, power supply, PC enclosure solutions for consumer and industrial applications, today announced the launch of X-Wing, the cooling pad, for notebooks, to help reduce the load on the system fans will help lessen the noise from your notebook.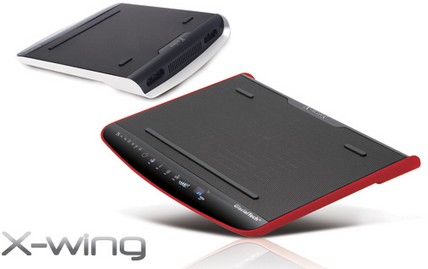 One might wonder how prolonged use of notebooks could effect on the upper thigh of the human. It can give first degree burns. Therefore, using laptop until it heats up would not only result in severe health disorder but can also damage the laptop in general. The tiny wirings and connections on the boards within the laptop are also sensitive to changes in temperature. Using the laptop for a long time after it is already heat up can cause these wirings and connections to melt could lead to the malfunctioning of the laptop.
On the other hand, because of the compact designs of the today's laptops, most of the manufactures compromise on the cooling aspect of the product – particularly putting the right size fan in place. It is, therefore, highly essential that a notebooks user should have at least the cooling pad for the longevity of the laptop. After all one's entire business depends upon the right functioning of the laptop. Therefore, with the cushion of GlacialTech cool pad, it ensures longer life and high productivity of the laptop.
Though made up of SECC and plastic, yet this Cooling pad from GlacialTech is solidly built and is very stable. In fact, it is one of the attractive looking notebook stands/cooling pads that is available in the market with slim and smart design for a various notebook models. The Mat of the X-Wing has two non-skid rubber domes, which prevent any slippage of the notebook. The user can also adjust the height of the cooling pad with the help of the two legs of the pad.
The inbuilt high quality fan helps dissipation of the heat and noise emanating from the mounted notebook on it. Therefore, the X-Wing helps reduce the load on the system fans. Powered by USB
connectivity from the notebook, it comes with 3 USB 2.0 ports to help the users to extend their USB slot and HDD slot from this cooling pad conveniently.
For the convenience of the users, the pad has fan speed and temperature indicator display. It actually helps the users to study the condition of the notebooks. X-Wing has media keys on the touch panel so that the users can actually control the media from the cooling pad. From the ergonomics point of view and color point of view, X-Wing Laptop cooling pad comes in four colors – silver, white, red & yellow, so that the users can choose their favorite color.
SPECIFICATIONS: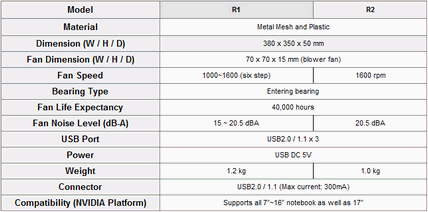 Weighing a mere 1.2 kgs, the GlacialTech X-Wing looks stylish and comes in 4 different vibrant colors- Silver, Red, White and Yellow.
FEATURES:
Power S/W on touch panel
Fan Speed Control (Auto/six steps)
Temperature and Fan Speed display
Media Keys on Touch Panel (Support Windows O/S only)
Adjusted Height
High Quality Silent Blower Fan
Good Airflow Design
3-Ports USB 2.0 Hub