(Auszug aus der Pressemitteilung)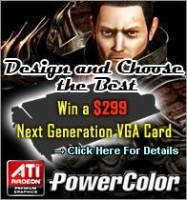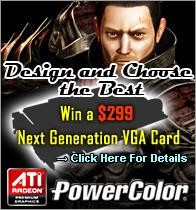 Taipei, Taiwan –September 1, 2009 – TUL Corporation, a leading manufacturer of AMD graphics cards, announces the "Design and Choose the Best" online contest. Gamers and designers from around the globe can download design elements from the contest website and incorporate them into wallpaper, screensavers and IM chat icons. Artwork can be uploaded via the contest detail page and each category will be voted on by the public. Top vote getters from each category (3) will be some of the first to own a high end DirectX 11 next generation PowerColor graphics card!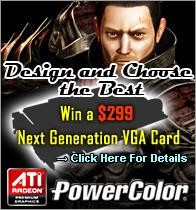 Designers won't be the only ones with a chance to win great prizes. Voters will have a chance to win 1 of 20 Go! Green HD4670's. Voting will begin Sep. 21st and participates will automatically be entered into a random drawing for the video cards at the conclusion of the contest.
Ready to design and vote for the best? Visit our website for more details:
http://www.powercolor.com/event/wallpaper/index.htm