(Auszug aus der Pressemitteilung)
Taipei, Taiwan – December 30, 2010 – After the successful launch of the World's First Independent Produced GeForce GTX 580 V-Go Graphics Card, SPARKLE Computer Co., Ltd., the professional VGA card manufacturer and supplier, today announced the GeForce GTX 570 V-Go Graphics Card, becoming the world's first manufacturer who can independently produce high-end graphics cards using Fermi 2.0 architecture. "V-Go, the series is represent the independent produced graphics cards, inherit the expertise spirit on graphics cards manufacturing for 16 years" said Kevin Wang the General Manager of SPARKLE ."We are pleased with the new high level of SPARKLE R&D and production capabilities. As another masterpiece of V-Go series, GeForce GTX570 V-Go Graphics Cards inherit the blood of Fermi 2.0 Architecture also has a better price advantage."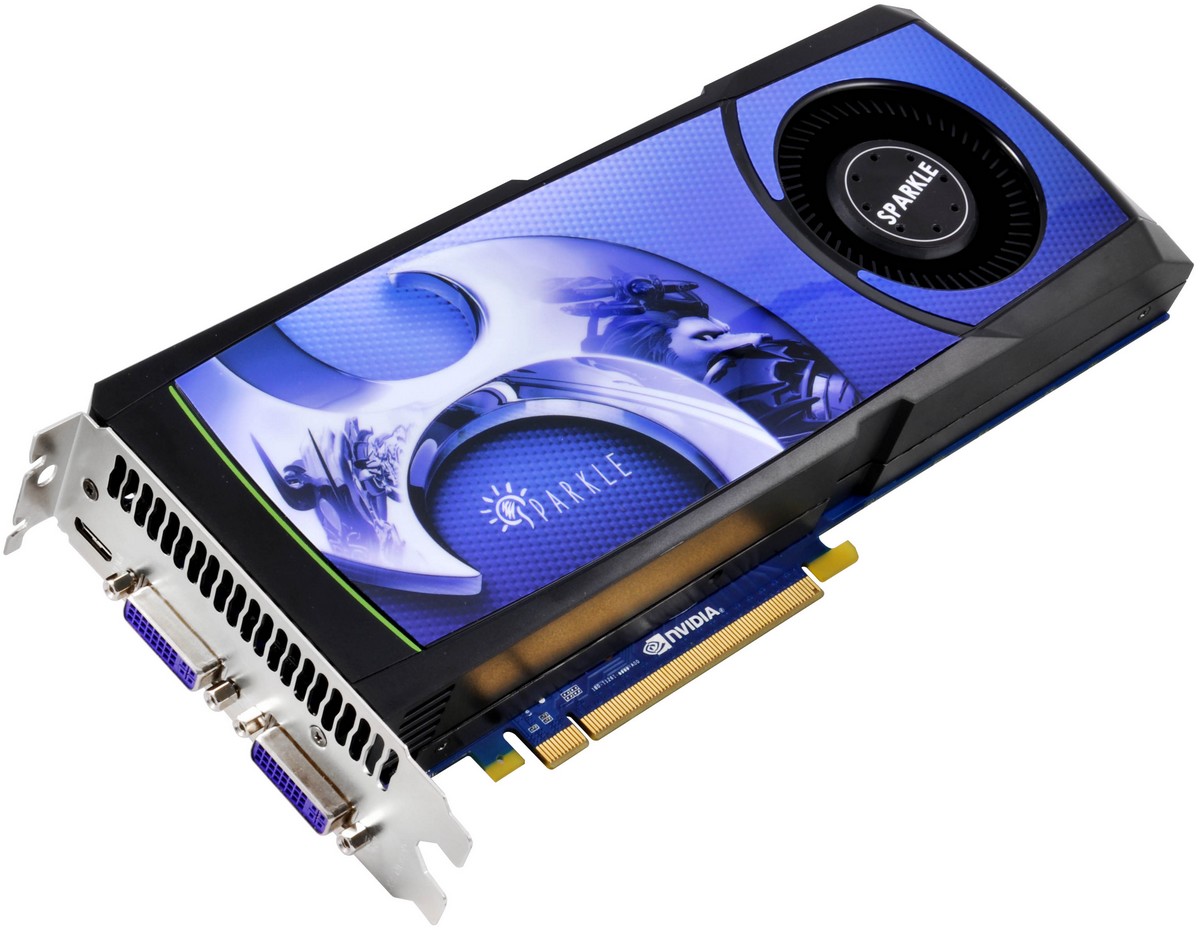 Produced From The Reference With Reliable Quality
Since the release date, there's no independent produced GeForce GTX 570 graphics card from AIC, because the bottleneck that produce, pass the extreme rigorous test and verification conducted by NVIDIA. As NVIDIA's add-in-cards partner and global strategic partner, with the strong R&D and manufacturing capabilities, SPARKLE took the lead in passing the NVIDIA original product performance testing, thermal performance and noise testing, product reliability/compatibility testing, burn-in and a series of strict validation, to become the world's first AIC manufacturer which can self-produce the GeForce GTX570 reference boards.
Elegant Design With Predominant Performance
SPARKLE GeForce GTX570 V-Go provides the user with the perfect quality from the reference board, but also integrated with SPARKLE unique design style. The graphics card uses blue PCB design, double purple DVI-I + mini HDMI output interfaces, changing from the black PCB with the white color of output interface from the reference design, so that entire graphics card is elegant with dynamic appearance.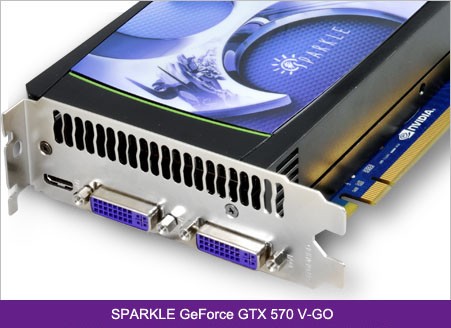 As the world's most powerful gaming graphics card with single chip, the SPARKLE GeForce GTX570 V-Go adopts NVIDIA latest Fermi 2.0 architecture, with 480 CUDA cores, 1280MB GDDR5 high-speed video memory. SPARKLE release two version of GeForce GTX570 V-Go graphics card with standard clock and overclock. The overclock version is overclocked out of box, it boosts the core, shader and memory clocks significantly to 752MHz, 3996MHz and 1504MHz, providing up to 6.5 percent faster overall performance compare to reference. So the DX11 performance and image quality of SPARKLE GTX570 V-Go's have been improved tremendously, bringing film-like realistic to DIY gamers. The Sparkle GTX570 V-Go uses Vapor Chamber thermal cooling design, thermal cooling efficiency of this design is far more than the copper heat-pipe cooling, bringing cooling and quiet operation.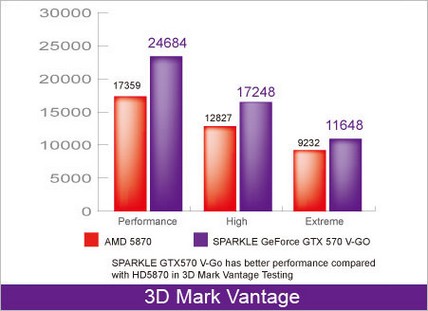 Self-confidence From The Strength
Strong research and development capabilities has been the proud and important resource of SPARKLE. .Accounted for 44% of the company's human resources, the SPARKLE R&D team has established a global technology, talent, experience and quality management research and development platform. SPARKLE has a strong production and manufacturing capacity, with 1,200 members standard operating lines, the average monthly production capacity exceeded 600K pcs. In the back of strong support, SPARKLE GeForce GTX570 V-Go can go to the market massively in the near future, meeting the need of high-end gamers and industry users.
Professional With The Pursuit of Excellence
SPARKLE GeForce GTX570 V-Go follows the leading edge technology and outstanding design and delicate process of SPARKLE graphics cards. SPARKLE graphics cards constantly improved in performance management, thermal efficiency, noise control, and operational stability, and many other aspects to meet the need of high-end gamers and professional users.