(Auszug aus der Pressemitteilung)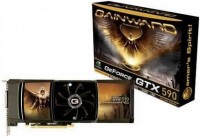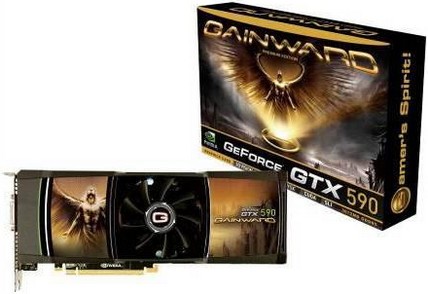 The world-renowned graphics card leader, Gainward is crowned to unveil the world's 1st and fastest DirectX 11 GPU – GeForce GTX 590. Gainward GeForce GTX 590 is dynamically driven by two GTX 500 GPUs on a single card; it is a great tribute to enthusiastic PC gamers worldwide who demands maximum performance. Gainward GeForce GTX 590 is clocked at 607MHz for double CUDA Cores of GTX 580, 1024 CUDA cores and has 1707MHz for 3072MB GDDR5 768 bits memory; equivalent bandwidth is amazing up to 327.7GB/sec. Brand new dual-GPU Gainward GTX 590 with 11 inch length, provides the better PC case compatibility to satisfy more enthusiasts' hardware requirements.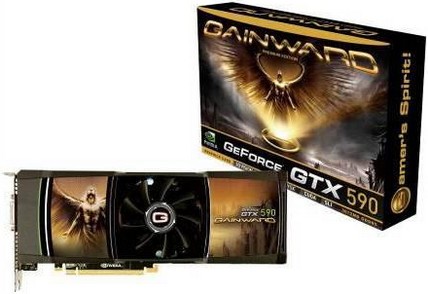 Gainward GeForce GTX 590's performance surpasses the world's fast single GPU – GTX 580 up to 50 %, and goes beyond proudly 20% comparing with competing GPU in red camp. Gainward GeForce GTX 590 has excellent SLI performance, while connecting two Gainward GeForce GTX 590 graphics cards together in Quad SLI, it creates the most powerful gaming system on the planet. The world's supreme gaming solution with Quad Nvidia SLI Technology, it can crank-up up to unbeatable 1.8 times faster than single GTX 590. Contributed by using controlled evaporation, vapor chamber coolers, Gainward GeForce GTX 590 provides quiet cooling performance; dual vapor chamber coolers imply optimal cooling to each GPU, enabling the best thermal solution. Gainward GeForce GTX 590 powers by dual-GPU but with amazing single GPU's low temperature and silent acoustic level.

Gainward GeForce GTX 590 combining dual-GPU delivers massive DirectX 11 tessellation performance, you can immerse in the incredibly detailed environments and characters. With 3GB of high speed GDDR5 memory, even the most intensive titles can be played at 2560 x 1600 with full screen anti-aliasing. With the single Gainward GeForce GTX 590, you can enjoy NVIDIA 3D Vision surround technology and three dual link DVI outputs enable panoramic exceptional gaming across three 1080p screens, ultra-wide resolutions 5760×1080 in full stereoscopic 3D. It delivers the features and technologies for an outstanding gaming experience from 3D Vision to Surround multi-monitor gaming to PhysX to unbeatable power of Quad SLI. With the incredibly screaming performance and sensational features, Gainward GeForce GTX 590 are hardcore PC gamers' ultimate dream. Show off the most powerful rigs ever to your pals and enjoy their looks of envy when you have the world's fastest DirectX 11!
Gainward GeForce GTX 590 Specifications