(Auszug aus der Pressemitteilung)


August 14th,Taoyuan, Taiwan – With the rapid demand on data access and storage, the mass audience also desires faster charging time. Enermax, a world-renowned PC DIY manufacturer, recently announces Enermax's new product line, Mighty Charger card reader, which was showcased at Computex Taipei 2014. Mighty Charger card reader comes in two models, the ECR501 designed for 5.25" drive bay and ECR301 for 3.5" drive bay. Both models support eSATA, USB 2.0, USB 3.0 and USB Super Charger ports, offering the most complete functions.

ECR501
Card reader with USB 3.0 bandwidth
Enermax Mighty Charger card reader features the access speed in USB 3.0 bandwidth. Compared to the major card readers in the market, which are in USB 2.0 bandwidth, the data transfer rate of each port on Mighty Charger card reader is 10 times faster! Both models can support 5 major cards: MS (PRO/PRO DUO), CF (I/II/MD), SD (SDHC/SDXC/MMC/RS MMC), Micro SD and M2 port. In addition, ECR501 supports Extreme Digital card.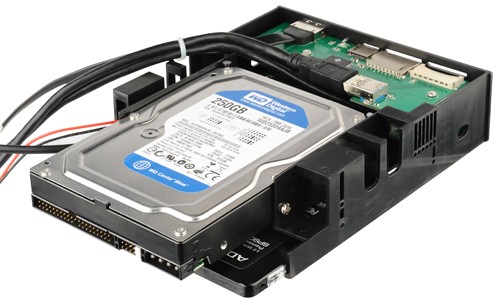 ECR501
USB Super Charger
More importantly, Mighty Charger card reader offers one USB Super Charger port (colored in yellow-green) for smart phones and tablets. It is compliant with the latest USB Battery Charging (BC) Specification version 1.2 which can support up to 2.4A charging power and save 80% charging time. In addition, other Mighty Charger's USB 2.0 port supports up to 1.5A charging power, 3 times faster than normal USB 2.0 ports.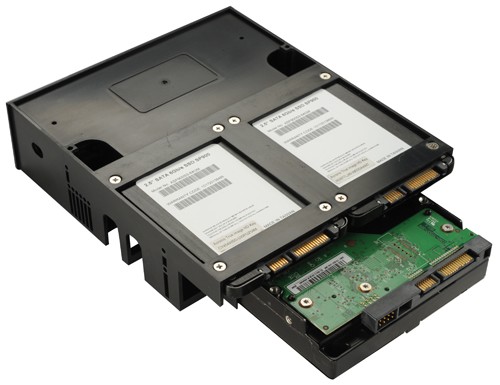 ECR501
More USB ports and storage space!
Mighty Charger card reader ECR301 provides 1 x USB 3.0, 3 x USB 2.0 and one eSATA ports. ECR501 has 1 x USB 3.0, 5 x USB 2.0 and one eSATA ports. Both models have LED indicators to display the USB and card readers' data access status. Furthermore, ECR501 has additional two 2.5" and one 3.5" drive space in the body of the card reader. This feature provides the most convenient superior expansion for consumer use.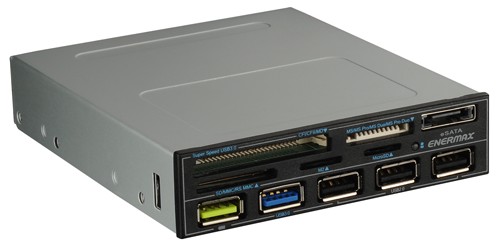 ECR301
The Enermax Might Charger card readers will be available in mid-August. Price and availability may vary based on region. Please consult your local Enermax representative for more information.