(Auszug aus der Pressemitteilung)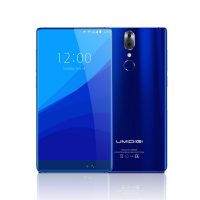 The screen has always played an important role among smartphone manufacturers, evolving from LCD screen, OLED screen, and curved screen, "flexible" screens keep taking smartphone screens onto higher levels of appearance. With the upgrading of screen technology and higher demands from consumers, UMIDIGI is also putting bezel-less screen as its major focus of production in 2017, we have come to the bezel-less screen smartphone era. Starting from the model UMIDIGI Crystal, UMIDIGI sets out the bezel-less exploration. You can now pre-order UMIDIGI Crystal for $99, learn more on UMIDIGI's official website.
UMIDIGI Crystal, LG G6 and Samsung S8 join the Bezel-Less Club
Entering 2017, the bezel-less feature has also become the main design concept in LG and Samsung's latest flagships. Bezel-less screen means to maximize the screen size while eliminating the frames to the extreme. Take the recently released Samsung Galaxy S8 for example, the screen ratio has reached 18.5 : 9, and has basically removed the "forehead" and the "jaw" of the phone by removing the physical buttons on the front. The 84% screen display ratio making the S8 nearly an "all-screen" presence.
UMIDIGI will release its first 18:9 superhigh screen ratio phone later this year
The display technology brings the changes of the screens, for consumers, this is indeed a visual shock. In material wise, whether it's LCD or OLED screen, the bigger utilizing of usable screen will definately bring about much wider visual experience. However, for most smartphone manufacturers, it's a great challenge to put bezel-less screen into volume production. Despite all the challenges, we are glad that see that smartphone manufacturers like UMIDIGI are keep on making self breakthrough after the bezel-less Crystal model, making the frontier smartphone technology reachable for most of us.