(Auszug aus der Pressemitteilung)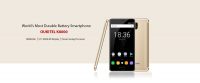 In early October, OUKITEL leaked that they are releasing the world's first 8000mAh battery smartphone OUKITEL K8000. OUKITEL announced that they are devoted to make it the most durable battery smartphone by supporting longest using time. Here OUKITEL Lab is doing a battery power consumption comparison among this K8000, the world's largest battery smartphone K10000 Pro, the popular Xiaomi Mix 2 and iPhone 7 Plus.
In the video, the 4 devices were tested in most power consumption ways, all in brightest screen and maximum volume.
See the result below: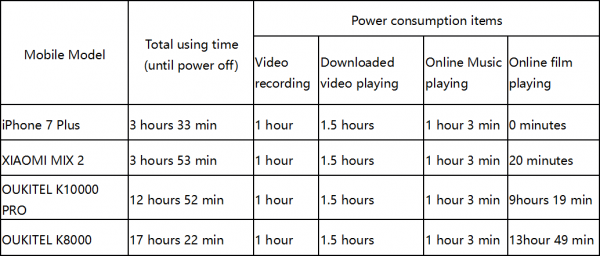 iPhone 7 Plus power off for the first after totally 3 hours 33 minutes. At this time, XIAOMI MIX 2 has 13% power left, K10000 PRO has 71% power left, while K8000 still has 79% power left. Xiaomi Mix 2 power off secondly after totally 3 hours 53 minutes power consumption. By this time, K10000 Pro still has 67% power, K8000 has 77% power left.
When K10000 Pro goes power off, K8000 still has 38% power left.
K8000 has got 8000mAh battery, but it lasts longer than the 10000mAh battery smartphone K10000 Pro. It could last longer than any other smartphones not only because of the 8000mAh 10.5mm high density Coslight battery, but also due to the power saving processor and display. K8000 adopts MT6750T octa-core chipset which is delicately optimized. It runs on the self luminous Samsung AMOLED display. The AMOLED LCD displays up to 96% color saturation and only consumes power when it shows colors which meas it won't consume any power when the display is in black.
OUKITEL K8000 is coming by end of November or early December, for more information, visit OUKITEL official website.