(Auszug aus der Pressemitteilung)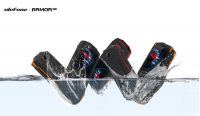 As mentioned in previous reports, there are indeed lots of devices from Ulefone worth waiting for. This time they give a dose of two handsets that they have been working on, respectively the rugged feature phone Ulefone Mini and big battery Ulefone Power 5.
According to the market research reports last year, the sales of feature phones has slightly increased. Speaking of feature phones, we can't skip Nokia who has been the most dominant force. And Ulefone will join the market as well. They would be releasing a new device named Ulefone Mini which is a feature phone as well as a rugged one. Featuring IP68 dust-proof and waterproof protection grade and solid design, the Ulefone Mini is rugged enough to stand up to any rough and harsh environments, you can trust to keep working when you take is out in the dirt, mud, sand or in the water. It's also a smart choice to use the Mini as a second phone as it can offer significantly long talk- and standby-time and handy reverse charge function. You can carry it with you in case you are in need of an external power source while electric service is not reachable.
On top of that, according to Ulefone, their next big hit, the big battery flagship Ulefone Power 5 is scheduled to be launched in mid-April. As the newest addition to the well-received Power lineup, the highlight feature of the phone is obviously the huge 13,000mAh battery it packs. To guarantee safety, the Power 5 adopts the dual-cell design. It also sports a trendy 18:9 all screen display for delivering a more immersive visual experience. But unlike it predecessors, the Power 5 features a rugged yet stylish look which suits perfectly for those who have a penchant for style and business.
If interested, please stay tuned for our next update or you can subscribe to the company's official website: ulefone.com to be the first to know.