(Auszug aus der Pressemitteilung)
Christmas holidays are just around the corner and everyone is already looking for the best Christmas Deals out there! Just in case you have been looking to upgrade your computer Software lately, there are some pretty good offers available for you.
Software licenses are currently one of the most popular Online goods and with the usual sales campaigns around Christmas, now is totally the best time to pick up some cheap legal ones without draining your wallet in the process!
Goodoffer24.com is no exception to this and has launched a Mega Christmas Promotion Campaign, with incredible jaw-dropping deals on Microsoft's most popular Software: From today and up until Christmas day, everyone who purchases Windows 10 Pro, Office 2016/Office 2019 or any other Software Product, will have up to 30% chance to get a full refund on their Order – getting it for FREE! On top of all that, all products in the Software Section will also have up to 18% EXTRA discount, offering just the top prices you deserve!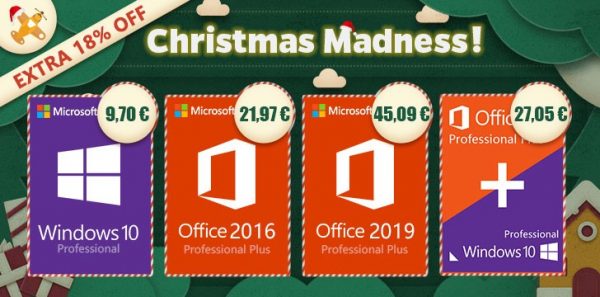 Grab these Christmas Deals on GoodOffer24 now!
Extra 18% off discount on all software products for the Christmas Madness: JGO24Xmas18
Note:This special Christmas promotion will end on December 26, 2018.
Fast delivery and best service
At Goodoffer24.com you can expect the best service. Shortly after ordering, you will receive the goods quite simply and quickly by e-mail. So you do not have to wait for days for the messenger. And if it comes to problems or you just have a question, the customer service is there to help you with words and deeds.
How to order from Goodoffer24.com?
Shopping at Goodoffer24.com is as easy as it gets. Here's a brief explanation of how to buy the OEM version of Windows 10 Professional the discount code: JGO24Xmas18 . Just click on the "Add to cart" button in the product description of the item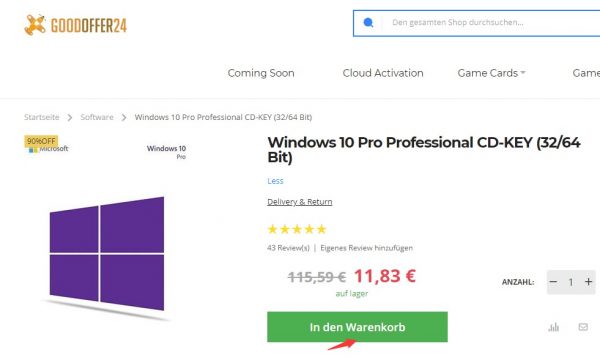 With the button "Add to cart" you add a product to your cart
In the shopping cart, simply click on "Apply coupon code" and enter the discount code JGO24Xmas18 there. If you then click Apply Discount, the discount will be deducted from the order value.
Simply enter the discount code in the shopping cart to save even more! Buy more, save more….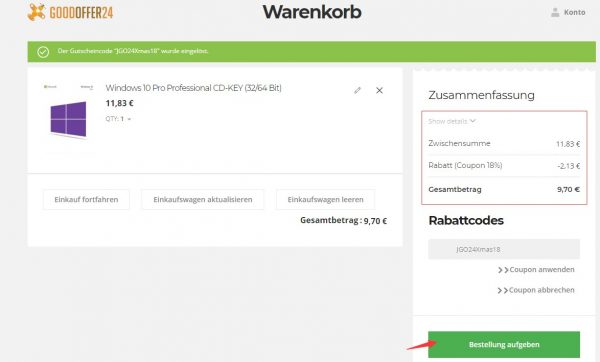 If you click on the "Proceed To Checkout" button, you only have to select the desired payment method (better to choose PayPal as the payment), enter your data and confirm your order. After the payment, you will then receive the ordered product within a very short time by e-mail – fast and uncomplicated!
You can send emails to info@goodoffer24.com to get any kind of help. The professional customer team will help you quickly.
What are you waiting for? These offers are only available for a limited time and are only valid while stocks last! So go ahead and grab yourself one of their mad deals for this Christmas right now – before it's too late!
We remind you that you first download the versions on your computer and then activate them with the key you purchased.