(Auszug aus der Pressemitteilung)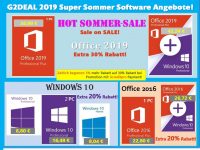 The original Windows 10 Pro/Home, Office 2019 and Office 2016 are much-needed tools for the installation of your new computer. Now we are presenting you the opportunity to get the genuine keys at Summer Sale, with a super special Discount code and discounts reaching up to 90%! In addition, if you use the UCreditPro platform as the payment method, you can get a further 5% extra discount immediately!
Super Summer Sale
G2DEAL is now offering a new Summer Sale campaign, with amazing prices on Microsoft Software. The Online platform already offered a great discount, as high as 90% when compared to Microsoft's original selling price – but now you can also get up to 35% EXTRA discount on the already low prices!
Who is G2DEAL?
G2DEAL.com is an Online Shopping platform specialized in selling genuine digital keys, including Microsoft Windows 10 Pro/Home, Microsoft Office 2019/2016 Software Suites, Xbox One Games, PC Games (like PUBG, the TOTAL WAR SAGA, etc.), Anti-Virus Software (namely McAfee and ESET), and more!
For the purpose of this article, we have selected some of the products in highlight at Summer Sale, including Windows 10 Pro/Home, Office 2019, Office 2016, Windows 10 + Office bundle packs, making it a total of 7 products.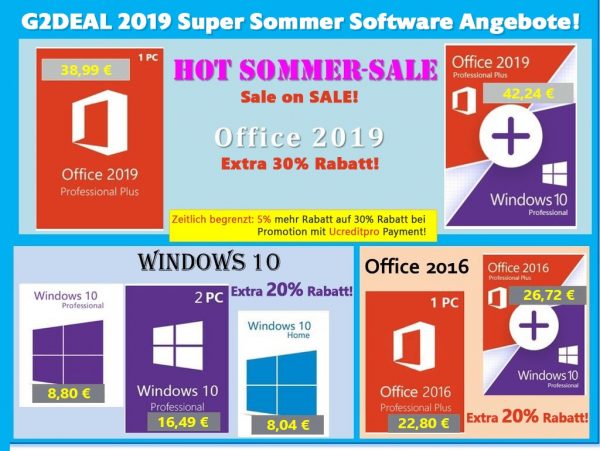 Special Discounts & Discount Codes
With the special Summer Coupon Code "JG2DM20", you can grab an additional 20% discount, plus an extra 5% discount if you pay via UCreditPro – granting you a minimum of 25% discount! Here are some of the available options below:
In addition to the essential Windows 10, G2DEAL is also offering a very special deal for Office 2019 products, including a very cheap bundle offer for Windows 10 + Office 2019. Once again, you have an additional 30% discount by using the coupon code "JG2DOFFICE2019" and get a great head start for a total 35% discount if you use UCreditPro for the payment:
Buy Now!
The purchase process is super simple! We would like to remind you that the special coupon code is for 30% OFF and that you can also choose to pay with Credit Card. However, if you choose the third-party payment method UCreditPro, you can get an EXTRA 5% discount on top of that!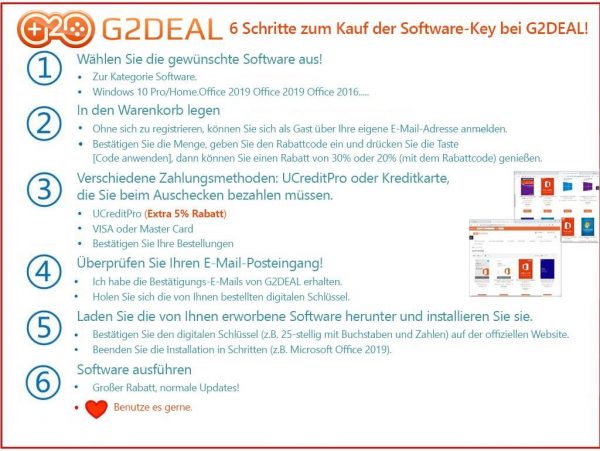 How can you order from G2DEAL.com?
First of all, we would like to share just a few numbers with you, so that you can better understand how huge the promotions can be! The original selling price of Windows 10 Pro is NT$4,162.62; at G2DEAL however, the general selling price is no higher than NT$424.58 – so normally it's already 90% off!
Click on the following to go directly to the Windows 10 Pro description page: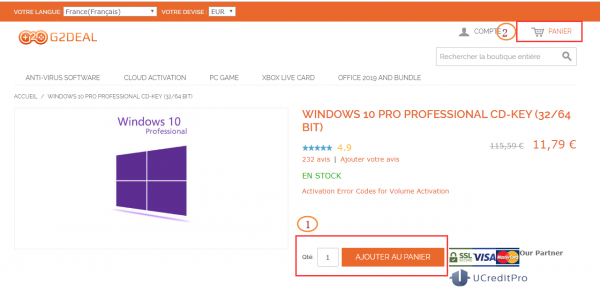 On the above page, you should confirm the Product Name and Quantity first – and with the "Add to cart" button you add the selected product to your Shopping Cart.
After adding a product to your Shopping Cart, you can choose to "Continue Shopping" other products or simply "Proceed to Checkout". But before advancing with your purchase, you can apply your discount coupon code here as follows: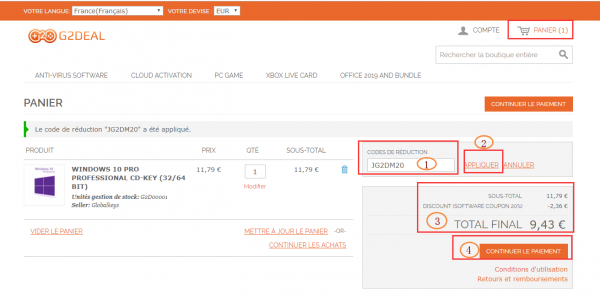 Simply click on "Apply coupon code" and enter the discount code "JG2DM20";
Then click on "APPLY";
And now you will get a new Total Price after the 20% reduction;
Click on "Proceed to Checkout" to start preparing your order!
Before proceeding to the Payment Method selection page, you need to complete the following procedures: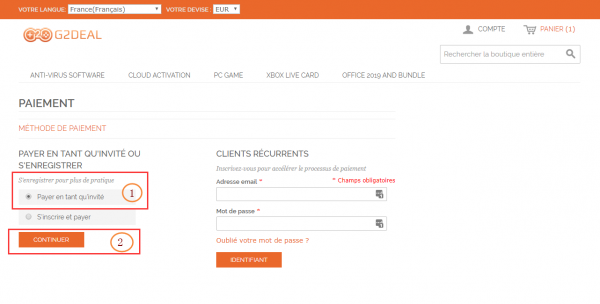 The platform's Shopping Contact is made mainly via e-mail, so it isn't absolutely necessary to register in advance;
Click on "Continue".
Billing Information
Make sure you fill in the correct Billing Information and provide an available E-mail Address. Shortly after ordering, you will receive an e-mail with your Product keys, so it's very important not to miss this step!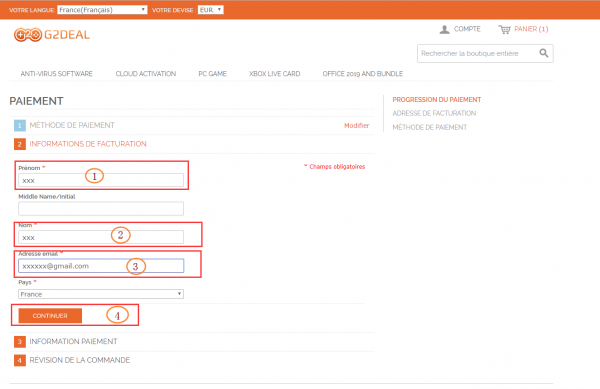 (1), (2) (3) Please fill in all the necessary Billing Information in the three blank boxes (E-mail Address being the most important one, even for contact purposes);
(4) Click on "Continue".
Payment Methods – UCreditPro
The UCreditPro payment method is highly recommended, both as an extra security measure and to receive extra discounts. It's a new payment method available at G2DEAL through a recent new partnership. In fact, it's deducted by PayPal and the seven products mentioned in this article will get an extra 5% discount IMMEDIATELY!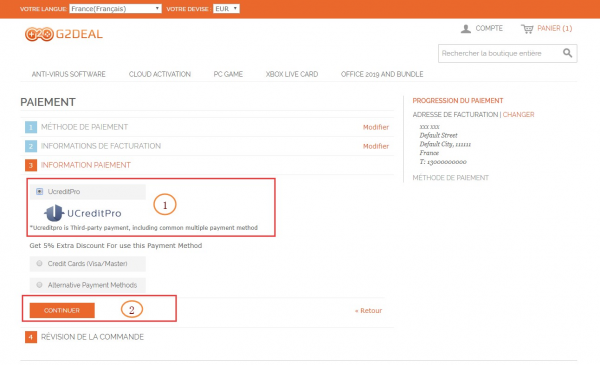 When you Checkout, it will automatically select UCreditPro, but you can also choose Credit Card (VISA or Master Card);
Click on the "Continue" button.
Confirming and Placing your Order
Confirm your Personal Data and the selected Payment Method;
Confirm the Discounted Price you will get (by using UCreditPro the discount goes up to 25%;
Simply click on "Place Order" to advance.
Confirming the Payment Transaction
After placing your Order, it will then jump to a new page with the PayPal Payment Service System. Simply follow the window prompts to complete your Payment and then your order will be completed – fast and simple!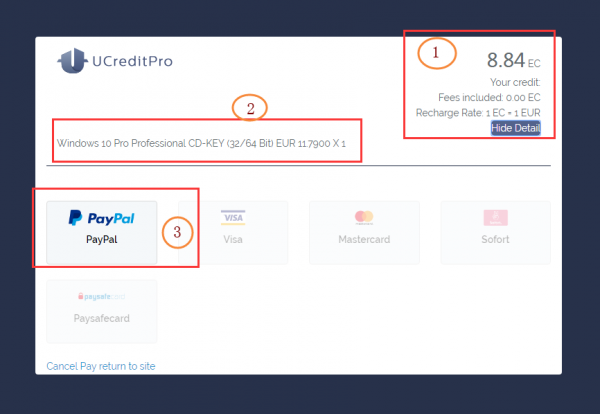 Confirm the Contents of your transaction (Product Name and Quantity);
Confirm the Grand Total Price after the reductions;
Click on "PayPal".
After that, please wait for the e-mail notification from G2DEAL to get your Digital key – completely trouble-free!
WINDOWS 10 PRO/HOME OFFERS (minimum 25% OFF guaranteed)
G2DEAL offers three different kinds of package products for Windows 10, including both the Professional and Home versions.
For WINDOWS 10 PRO PROFESSIONAL CD-KEY (32/64 BIT) (AT $10.40/8.8€), there is a 20% applicable discount with the coupon code "JG2DM20", plus an extra 5% discount with Payments via UCreditPro – making it as high as 25% OFF!
If you need multiple installations, you can save even more with the 2xPC Package WINDOWS 10 PRO PROFESSIONAL CD-KEY (32/64 BIT) (2 PC) (AT $19.39/16.49€) – which is already 10% cheaper than two single purchases even before you apply your discounts!
For those on a budget and interested in MICROSOFT OFFICE 2016 PRO PROFESSIONAL PLUS CD-KEY (1 PC) (AT $26.78/22.80€), it has most of the major modern Office features and the same 20% discount code "JG2DM20" is still applicable as well!
But here is where G2DEAL shines, with the WINDOWS 10 PRO + OFFICE 2016 PRO – BUNDLE Pack (AT $31.40/26.72€)! When compared to individual purchases, this package is much cheaper and gives you the complete Microsoft Experience you need today!
Office 2019 has many updated features. So in case you want to enjoy the latest Office Software technology and maximize your productivity, it will certainly be your best choice! For both Office 2019 Products you can apply the 30% discount coupon code "JG2DOFFICE2019" and grab an extra 5% discount with UCreditPro as well, for a minimum of 35% OFF! That's right, have a look:
G2DEAL is always pushing new promotions with lots of surprises and low prices – so go ahead and bookmark their page to stay updated! In addition, the Online Store is open all year round, 24/7 – so if you want to upgrade your Computer Software during the holidays, you should certainly grab one of their promotions!
If you happen to find any issues or if you just have a few questions to ask, their Customer Service Team is there to help you with words and deeds! For any type of contact, just send them an e-mail to the following address: G2deal@outlook.com
All these promotions and special discounts presented above are time-limited and only valid while stocks last – so don't you wait for too long! However, if you do have to wait and the promotions run out by then, G2DEAL already offers up to 90% discount on the original selling prices – it can't go wrong for you. Go check it out and grab them today!