(Auszug aus der Pressemitteilung)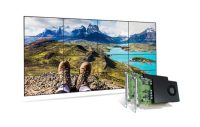 The Matrox D-Series D1480 multi-display graphics card is now available! Purpose-built to drive next-generation video walls, this new quad DisplayPort™ card enables OEMs, system integrators, and AV installers to deliver high-performance platforms for any commercial and critical 24/7 application.
Power video walls that are worth the view by:
Combining multiple D1480 boards to drive up to 16 synchronized 4K displays.
Pairing D1480 with QuadHead2Go™ multi-monitor controllers to output up to 64 Full HD screens.
Coupling D1480 with Mura IPX capture cards to capture and display HDCP sources—including set-top boxes, media players, and video game consoles.
Leveraging a rich assortment of video wall software and developer tools to create custom control functions and applications.
"Video wall designers can now capture and display HDCP sources, run computationally-intensive applications locally, deploy ultra-high-density-output platforms, and much more—all while benefiting from a high-performance, high-reliability video wall architecture."
– Fadhl Al-Bayaty, business development manager, Matrox