(Auszug aus der Pressemitteilung)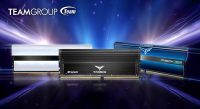 2021/3/31 – Leading memory provider TEAMGROUP announced today the release of newly specification for T-FORCE high clock rated memory products that will coincide with the launch of Intel 11th Gen Rocket Lake processors: the T-FORCE XTREEM DDR4, XTREEM ARGB DDR4, and XTREEM ARGB WHITE DDR4. When these high clock rate memory modules are paired with the latest Z590 motherboards, users will experience blistering speeds and top performance that will satisfy overclocking enthusiasts and gamers around the world.
T-FORCE's R&D team continues to push clock speeds to greater heights and has successfully launched new 5600 MHz, 5333 MHz, and 5066 MHz DDR4 memory modules to pair with the latest Z590 motherboards and Intel 11th Gen Rocket Lake processors. Under its XTREEM product line, T-FORCE is releasing a DDR4 memory kit with a clock rate of 5600 MHz and a capacity of 16 GB (8 GB x 2) for the ultimate overclocking performance. At the same time, T-FORCE is releasing updated XTREEM/XTREEM ARGB/XTREEM ARGB WHITE DDR4 models with speeds of 5333 MHz and 5066 MHz and 16 GB (8 GB x 2) kits to meet the diverse needs of overlockers.
In addition to providing high overclocking speeds, T-FORCE also places great importance on the compatibility of its products. Its DDR4 memory modules with speeds over 5000 MHz are compatible with Z590 motherboards from different manufacturers and Intel 11th Gen Rocket Lake processors, offering extreme speeds to consumers worldwide.
*Below is a screenshot of the passing burn-in tests of different Z590 motherboards with the latest Intel 11th Gen Core i9 processors(ASRock, ASUS, Gigabyte, MSI).
*The products mentioned in the press release will be available for sale worldwide in May, 2021.