(Auszug aus der Pressemitteilung)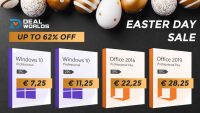 The coming Easter day is also about sharing love and happiness, and it also brings great opportunity for getting huge discount in the shopping. Dealworlds, the global software online store, offers attractive price for upgrading the computer system and software with the the time of Easter bunny and coloured eggs. Perhaps you are looking for gifts? There are various practical products like Windows 10 Pro, Office 2019 and Office365, helping to renew the operating system and achieve a performance and security improvement.
Different products combinations and bundles are also easy to get so that the choice becomes no longer hard.
Raise you joys high, and visiting Dealworlds Special Sale at Easter and grab exciting offers!
Easter's Special – Direct Offer
Dealworlds offers special price for Windows 10 and Office. Demands and efficiency making them popular. So don't miss the high price/performance ratio products. No coupon code needed.
Half Price on Windows products
Coupon Code: SDW50
Other Windows licenses also enjoy extra 50% discount. Simply apply the promotional code on the shopping cart and take advantage of the price reduction.
62% OFF on Bundle-More products, More discount
Coupon Code: SDW62
Combinations and bundles provide further price-drop on shopping.
55% OFF on Diverse Products
Coupon Code: SDW55
Other types of products are also available. Perhaps you are looking for software of domestic, studying or professional uses? The listed products are suitable and in good price.
For this we only need to apply the code "SDW55" in the shopping cart.
The purchase process is simple and multi-payment methods is available. All these promotions and special discounts presented above are time-limited and only valid while stocks last – so if you want to upgrade your computer software during the holidays, you should certainly grab one of their promotions.
If you happen to find any issues or if you just have a few questions to ask, their customer service team is there to help you with words and deeds! For any type of contact, just send them an e-mail to the following address: support@dealworlds.com.