(Auszug aus der Pressemitteilung)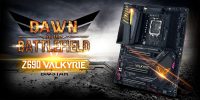 November 5th, 2021, Taipei, Taiwan – BIOSTAR, a leading manufacturer of motherboards, graphics cards, and storage devices today, announces the brand-new Z690 VALKYRIE and the Z690A VALKYRIE flagship motherboards.
Reign supreme over every challenge with BIOSTAR's premiere VALKYRIE series motherboards. Designed based on the Intel Z690 chipset, the new VALKYRIE series motherboards are the top choices to run alongside Intel 12th gen Alder Lake processors. Coming in two exciting new designs, the Z690 VALKYRIE and the Z690A VALKYRIE motherboards are the first choice for gamers and content creators looking for nothing but the best.
The VALKYRIE series motherboards are ready to take over the crown as the new king of gaming and performance. Continuing the success of the previous VALKYRIE series, BIOSTAR's latest flagship motherboards come equipped with the most robust power delivery and dominant thermal design ever created. Stylish and graceful, the VALKYRIE series motherboards adorn the signature battle armor design covering its state-of-the-art fins heat sink. Together with the full copper base metal backplate, the motherboard keeps its high-tech components cool actively.
Both motherboards support the latest PCIe 5.0 specifications and feature BIOSTAR's exclusive 20 phase power design technology, which provides excellent power delivery across all its components, seamlessly enabling high-speed bandwidth for the latest AMD and NVIDIA graphic cards.
Improved overclocking and process stability enabled by the 20 phases power delivery system is vital for the newer 12th Gen Intel processors for smooth operation. Smartly integrated features like BIOSTAR's proprietary digital PWM technology deliver the ultimate balance between extreme performance and lasting stability, allowing users to take full advantage of the flexibility of the latest Intel chips.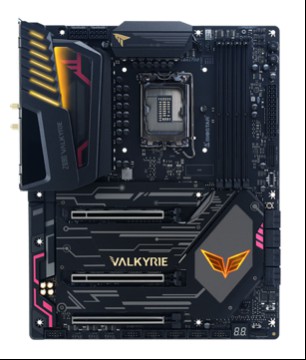 BIOSTAR VALKYRIE Motherboards are tailor-made to be the best and last the longest on the battlefield. With improved components like Iron Slot Protection, Super Durable Inductor/Capacitors, and a moisture proof PCB, these motherboards will overcome all obstacles thrown at them.
Efficient storage technology like PCIe M.2 4.0 (64Gb/s) is a must-have in this generation of motherboards, and the new Z690 VALKYRIE series motherboards come packed to the brim with a layout of smart storage ports. Consisting of 1 x PCIe M.2 3.0 (32Gb/s),3 x PCIe M.2 4.0 (64Gb/s), and 8 x SATA III (6Gb/s) Connectors, users can enjoy multiple storage connectivity with blazing fast speeds for all occasions.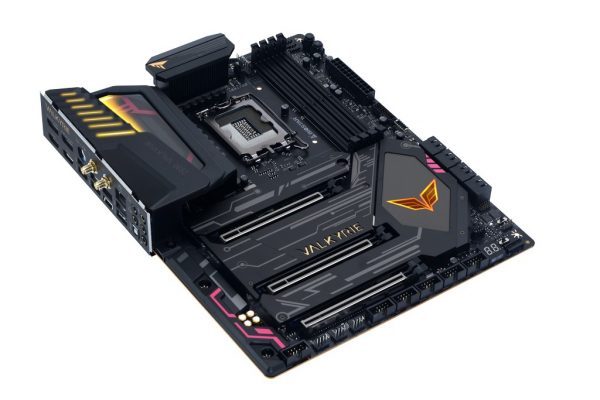 Furthermore, the Z690 VALKYRIE motherboard supports the latest DDR5 architecture and XMP 3.0 capability. The new DDR5 memory technology brings 50% more stable bandwidth to the platform, increasing system performance drastically by implementing unlocked native DDR5 Voltage. Capable of handling up to 128GB of RAM with 6000+OC capability.
The Z690 and the Z690A VALKYRIE are ATX form factor motherboards carrying a fully decked-out rear I/O panel. 8 USB ports, with 7 of them being USB 3.2 (Gen2) Ports and 1 USB 3.2(Gen2x2) TYPE-C-Port for speedy data transition and connectivity with an extra 1 x PS/2-Keyboard & Mouse Port for users looking for that extra special port for old-school device connectivity is available for users in the rear I/O panel.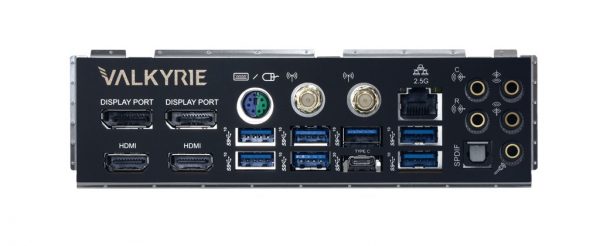 Extraordinary audio and video output are a given with all BIOSTAR motherboards, and the new VALKYRIE series motherboards are no exception. With four video output ports consisting of 2x HDMI ports (2.0/1.4) and 2x DISPLAY Ports (1.4/1.2) together with 5x audio ports controlled by ALC1220 audio chipset that provides 7.1 Channels, High Definition Audio, users can experience an unprecedented immersive audio-visual experience like no other.
It is safe to say that the new BIOSTAR Z690 VALKYRIE and the Z690A VALKYRIE motherboards are a class above the rest. With exceptional attention to detail and the use of cutting-edge technology, they are the best motherboards that money can afford. Gamers and content creators looking to upgrade their systems to the latest Intel 12th Gen processors now have the best choice at their disposal with sleek aesthetics that suit any build theme and unrivaled build quality, the Z690 VALKYRIE series motherboards bring victory to your desktop.