(Auszug aus der Pressemitteilung)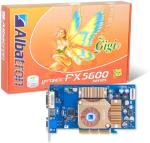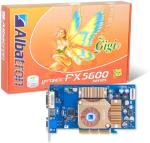 Albatron Technology Co., LTD, a manufacturer of Mainboards, VGA cards and Image Display equipment, recently announced another first with its 256 MB RAM VGA card, the FX5600EQ. This card has at least double the memory size of most of the VGA cards on the market today, boasting the potential to easily tackle even the most memory intensive applications. This card also features a powerful nVIDIA® GeForce FX5600 high performance GPU, which includes the newest release of the CineFX engine whose features significantly enhance image color, shading and texture.
With its large RAM base, the FX5600EQ is fully equipped to handle memory intensive applications, especially 3D gaming software. 3D gaming software require large amounts of temp and work areas in RAM in order to keep track of an enormous amount of complex 3D display data such as vertex and pixel shader information.
The nVIDIA GeForce FX5600 GPU delivers an impressive features list which includes the latest version of the CineFX graphics engine. This important component employs the most advanced Vertex and Pixel Shader technology in the market today and produces uninterrupted high-quality image display. Also included is Cg architecture, a high-level graphics shading language which gives developers all the tools to easily program their GPU and quickly master new levels in graphical imaging. Intellisample technology's intelligent antialiasing features smooth away imperfections and jagged edges like you've never seen, leaving you with very high-quality, high-resolution realism. Finally, support for OpenGL®1.4 and DirectX® 9.0 insure optimal compatibility for present and future applications.
This card's nVIDIA GPU also contains the latest nView graphics display technology that is used to give the user more desktop space by using two monitors instead of one. With two separate RAMDAC channels and data transfer rates of 400 MHz, this GPU can easily keep up with the data supply needed for each display. Compared to the top Ti series model (the Ti 4800), this card boasts image display performance that is 15% faster. An additional feature is the Unified Driver Architecture (UDA) which is a set of software drivers used by all nVIDIA products which simplifies the upgrade process for nVIDIA products. Finally, this board is capable of resolutions of up to 2048x1536x32 bpp (@85 Hz).
This card has been designed with AGP 8X compatibility which significantly improves on the throughput of its predecessor AGP 4X technology. The FX5600EQ also comes complete with D-Sub, DVI, and TV-Out connectors. The packaging provides you with an "S-Video to AV" adapter cable, Driver CD, Warranty, English/Chinese Manual and 2 bundled games.
The FX5600EQ is first out of the blocks as a 256 MB VGA card and finally gives 3D applications more RAM to maneuver in. Gamers will be impressed with its ability to tame memory hungry 3D software while displaying quite an impressive array of versatility and power.