(Auszug aus der Pressemitteilung)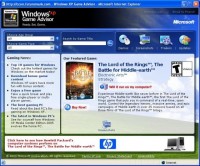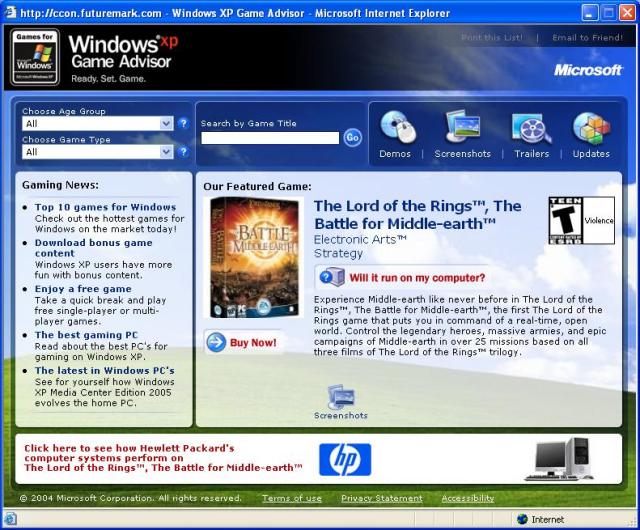 Saratoga, California USA – January 3, 2005 – Futuremark Corporation

announced today that it has delivered enhanced performance analysis
services to Microsoft for the Windows XP Game Advisor. The additional
features launched today include the ability to quickly compare and
evaluate game performance on systems offered by various leading PC
Manufacturers. Since its launch on Microsoft's Windows XP website in
December last year, the service has been used by over 1 million gamers.
| | |
| --- | --- |
| Windows XP Game Advisor | Sicherheitsabfrage |
The tool helps Windows users determine which games will run on their PC
and select the perfect games for themselves, family or friends. In
addition to allowing consumers to filter games by genre and age group,
the Windows XP Game Advisor provides unbiased performance comparisons
that aid consumers in determining which games will perform best on
their computers before they go to the store — and even print or e-mail
a shopping list of just the right games. The site also filters games
according to Entertainment Software Rating Board (ESRB) age categories
so that only appropriate games are recommended for users within
specific age groups.
| | |
| --- | --- |
| PC analysieren… | Ergebnis für "Lord of the Rings" |
Alienware, Dell and HP are the first PC manufacturers to have their
current systems incorporated into the enhanced Windows XP Game Advisor.
The service compares users' PC performances with featured PC systems
and shows gamers how 200 of the hottest PC game titles will perform on
their own PC versus those of the manufacturer's offerings.
| | |
| --- | --- |
| Resultat für Half-Life 2 | Resultat für Doom 3 |
"Consumers are looking for an easy way to find the right computer game,
and to make sure it will work on their computer. The Windows XP Game
Advisor has filled this need" said Lisa Sikora, Microsoft group product
manager, Windows Gaming. "And now the Game Advisor delivers information
on how to improve the game playing experience with a new computer from
one of several major manufacturers."
"Futuremark takes great pride in being the supplier of the Windows XP
Game Advisor service to Microsoft and we are thrilled to see how well
it is being received by consumers" said Tero Sarkkinen, Executive Vice
President of Sales and Marketing at Futuremark. "Numbers speak for
themselves; 1 million customers so far proves that there is great
demand for tools like this that help both gamers and gamers-to-be in
their purchasing decisions. Microsoft is doing a great service for all
gamers by providing this tool." Sarkkinen continued.
In order to use this unique service, please visit:
http://www.microsoft.com/windowsxp/games/gameadvisor/default.asp