(Auszug aus der Pressemitteilung)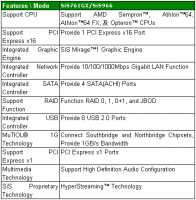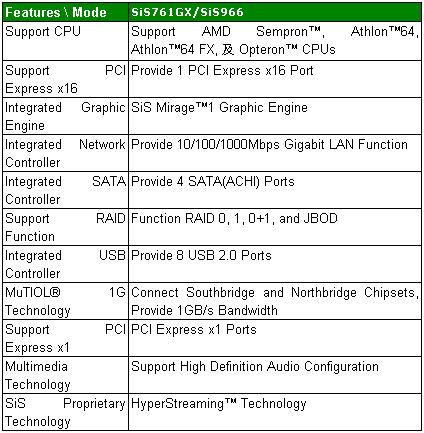 Taipei, March 11, 2005 – Silicon Integrated Systems today announced that the release of the SiS761GX integrated chipset, the first product of its kind to support AMD64 platforms with a PCI Express x16 high-speed graphics interface. The SiS761GX is equipped with a 3D graphics core, and fully supports new generation AMD64 central processors, including the AMD Sempron™, Athlon™64, Athlon™64 FX and Opteron™.
Supporting the newest high speed PCIe x 16, the SiS761GX allows games to add an external PCI Express graphics card for the ultimate graphics performance. In addition to its highly efficient Mirage™1 graphics core and software support for DirectX 9.0, the SiS761GX is capable of dual screen output when paired with the SiS302LV video bridge chip. Aimed at gamers in the mainstream market, the SiS761GX's internal graphics core provides ample graphics functionality, thereby eliminating the need to purchase an additional graphics card. Gamers once again enjoy high system efficiency thanks to the flexibility of SiS products.
"SiS has always been devoted to incorporating advanced technologies into our products," said Daniel Chen, CEO and President of SiS. "With the advent of this new era in PCI Express high-speed transmission, SiS has proven its hard work and dedication to product R&D by combining the SiS761 GX and SiS966. We are confident that this is the perfect combination for gamers using the AMD64 platform."
The SiS761GX supports the AMD 64-bit platform's advanced HyperTransport™ 1G specifications, which can reach transfer speeds of up to 2000MT/s. When connected to an AMD64 processor, the SiS761GX greatly raises the efficiency of your system. Moreover, the mature MuTIOL®1G technology, also developed by SiS, promises the smoothest data transfer between South and North Bridges. By adopting SiS' revolutionary HyperStreaming™ Technology and the intellectual data-processing module, SiS760 offers the best performance for the AMD 64-bit platform and the most efficient resource distribution. The data transmission can be processed either synchronously or by batch to evidently improve system performance of High-End processor.
SiS has also released its newest southbridge chip, the SiS966, which offers a 1GB/s transfer bandwidth using its exclusive MuTIOL® 1G technology. The SiS966 offers two PCIe x 1 ports and is equipped with Gigabit Ethernet's high speed ethernet technology, which provides network speeds of 1000/100/10Mbps. In the audio/video multimedia realm, the SiS966 provides the ultimate audio/visual experience with 7.1 High Definition Audio surround sound. The SiS761GX integrates 8 USB2.0/1.1 ports, with four Serial ATA ports fitting AHCI-specification, and the other four Parallel ATA133 standard IDE hard disks. The SiS761GX also provides highly efficient support for RAID data storage backup and hard disk management functions in RAID0, 1, 0+1, and JBOD.
* More about SiS761GX and SiS966 PCI Express Chipsets: