(Auszug aus der Pressemitteilung)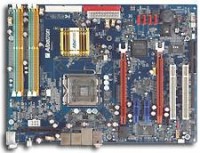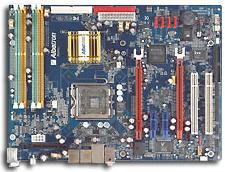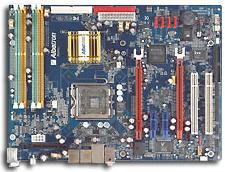 Albatron Technology has recently announced a powerful PX19-SLI Intel based mainboard featuring dual VGA card SLI technology and supports for the newest Intel Dual Core processors.
Last year, NVIDIA flexed its superiority by breaking away from the pack with its SLI dual VGA card innovations almost doubling VGA performance on AMD based platforms. Now NVIDIA has rewired SLI technology for Intel based platforms introducing the NVIDIA nForce 4 SLI Intel Edition and bringing superior graphics performance for Intel market as well.
Albatron Technology now brings that technology to life with its PX19-SLI mainboard combining the nForce 4 SLI Intel Edition chipset with Albatron's own unique innovations and performance technologies.
The PX19-SLI sets itself apart with its pedal-less design. A pedal circuit board is required on most SLI boards and needs to be taken out and reinserted when using dual card VGA SLI technology. But Albatron's PX19-SLI has sidestepped that hassle with its own unique on-board circuitry design. This will ultimately lead to better signal quality and optimization of performance levels. This board will additionally support the latest Intel Dual Core processors boasting FSB 1066 MHz along with DDR II 667 memory configurations.
Albatron also has included the second-generation mPower II, a PWM (Power Width Modulation) circuit board that significantly reduces temperatures around the CPU socket resulting in more stability and increased performance potential. mPower II is much easier to install than its predecessor (mPower), only requiring installation into its slot. The system then automatically detects it with no additional configuration required.
Albatron also provides additional support for the onboard BIOS with ABS (Albatron BIOS Security), an attachable/detachable circuit board with its own BIOS. Not only does this provide backup security, it also can be used for BIOS repair and revision upgrades.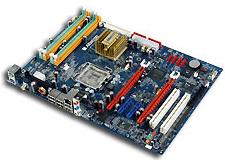 The PX19-SLI comes standard with Gbit LAN, 6-Channel Audio effects, and SATA II with RAID. On the back panel, Albatron has made a bold move to remove older COM and Parallel ports in favor of additional 2.0/1.1 USB ports, an RCA digital audio output port and space for the mPower II slot. However, users still have the option of using COMM and Parallel devices by using the designated headers on the mainboard (extension bracket is required).
With the PX19-SLI, Albatron Technology brings two of the most recent, high-impact technologies (SLI & Dual Core) together on one mainboard. Together with Albatron's own unique innovations, the PX19-SLI is expected to get considerable attention as one of the top performing platforms on the market this quarter.