(Auszug aus der Pressemitteilung)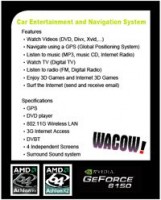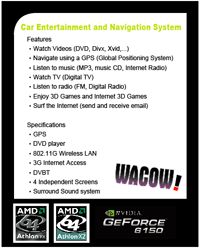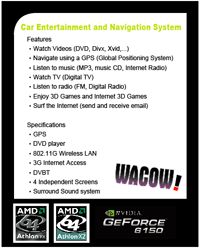 Albatron Technology is ramping up again for this year's Computex Exhibition, one of the top three computer tradeshows in the world in terms of exhibitor and visitor numbers. Same as last year, Albatron will setup at the Taipei International Convention Center, Hall 4 (Room 103). Albatron will arrive full-force with top-performing Mainboards and VGA cards along with Image Display Equipment and Barebones Systems.
As always, Albatron is eager to showcase its major product lines to the world. This year's Mainboard and VGA products will include the latest wave of technology sweeping through the market including mainboards based on Intel® 965 chipsets, AMD based AM2 mainboards with integrated DDR II memory controllers and NVIDIA® GeForce 7 Graphics Cards including a Dual Card Single Slot VGA monster. Several product demonstrations will also be on hand giving customers an up-close look at Albatron's reliable quality and top performance.
This year's spotlight will be on the much anticipated KI51PV-754, a diminutive Mini-ITX mainboard packed with functionality and boasting ferocious performance. The KI51PV-754 will be on live display, installed into the dashboard of a car, demonstrating its perfect fit and multifunctional capabilities.
Computex is an annual super show that allows IT solution providers maximum exposure for their products and services. Albatron aims to go all out this year to demonstrate that Albatron products not only boast top quality, performance and reliability but also demonstrate first-to-market research and development strengths.
This year's Computex 2006 takes place from June 6th to June 10th. Albatron will be located at the TICC (Taipei International Convention Center), Hall 4, room 103.