(Auszug aus der Pressemitteilung)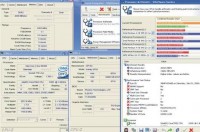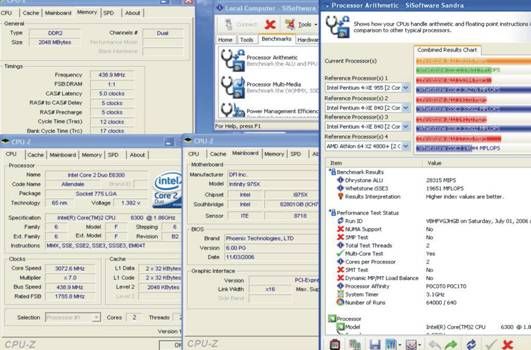 Intel has just officially launched its first Quad cores processor "Core 2 Extreme QX6700". Now the development of processors is now rushing into the "multi-core competition" era. No matter how many cores a processor has an excellent BIOS design of motherboard is still a necessity to attain top-notched CPU's performance. Therefore we have released the newly configured BIOS for INFINITY 975X, which fulfills the demand of extreme performance users.
The latest BIOS for the Infinity 975X was designed for the super gaming/OC platform and proves DFI's long term commitment and constant attention for detail and customer satisfaction. As always DFI is constantly listening to enthusiast's requests and wishes. This peaks DFI's awareness of enthusiasts' aspirations for the ultimate in motherboard performance has lead to the release of the latest BIOS at the same time as Intel's Kentsfield CPU launch date. DFI provides unsurpassed post-sales service by providing continued consulting to hardware tweaking and overclocking which helps differentiate them from the other manufacturers. This means that the performance of motherboard can continually be stepped up with a simple and yet effective BIOS upgrade. Any lucky gamer/OCer who already owns an Infinity 975X just has to flash the BIOS to the newest version and the board will support the latest quad core CPUs and also allow them access to the latest extreme overclocking features. This is what we call the "seamless upgrade". It is first-in-industry and totally changes the old, stereotyped concept of BIOS upgrade. As always DFI's main priority when releasing a new BIOS is improving the overclocking performance of the board while providing an even more reliability and support.
The following shows the OC performance of the latest BIOS from a certified lab test.
The lab test adopted a multi-sampling mode to run the tests in order to get data with objectivity. Test results have also been categorized separately for both air and water-cooling.
The system equips Intel Core 2 Duo E6300 CPU with air cooling solution (Intel package bundle) for the first test. The outcome really surprised our test team. The FSB reached 438.9MHz which is makes the Infinity 975X/G one of the top performance boards in it class.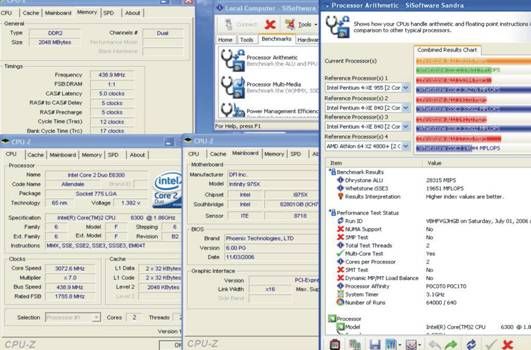 The average frequency exceeded 430MHz in the multi-sampling lab test.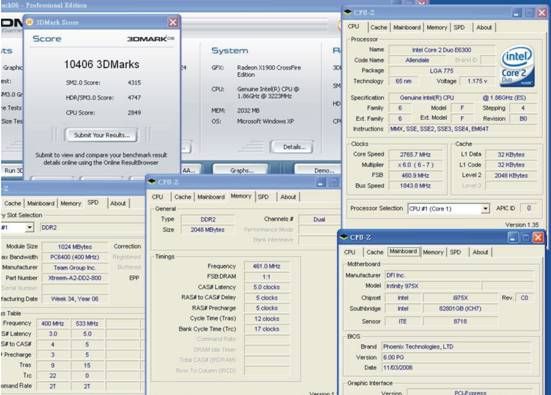 Other test ran with water cooling arrangement, also under multi-sampling modes. The last FSB result came to an incredible 461MHz, while the average was around 460MHz.
Whether it is configured with air or water cooling, the newly released BIOS can undoubtedly upgrade the board to top OC performance and provide users with a Quad core ready platform.
Players have paid a ton of attention to Infinity 975X since it was launched as it uses Intel's 975X chipset, supports DDR2-800 memory, and supports ATI(AMD) Crossfire X16 technology providing the ultimate in gaming performance. In addition the it supports all Intel Duo Core and Quad Core CPU's giving this board with superior performance for the future. If that is not enough this motherboard also comes equipped with awesome features such as the E-SATA interface and Digital PWM. Without question, this is the only logical choice for professional gamers, overclocking enthusiasts, and SOHO users.
The name "Infinity" is synonymous with the infinite passion that DFI packs into their ultra performance motherboards. The splendid test results of Infinity 975X above prove this excellent O.C. performance perfectly and show that great OCing is not only a available on the LANParty series. Infinity series brings endless potential to satisfy all enthusiast and pro-gamers. Besides the immense performance possibilities, the Infinity also boosts an exceptionally attractive price. Needless to say, every enthusiast will want to own the most powerful gaming motherboard and combine it with the newest Intel Kentsfield / Conroe CPUs and ATI(AMD) CrossFire graphics cards.
Many players have said that DFI motherboard is "Born for overclocking" which is actually the principle of why DFI exists. Nonetheless it is easy to see that "overclocking" is not just a marketing slogan but something that DFI passionately eats, sleeps, and breathes. Starting with a good design and manufacturing is essential, but that is just the beginning stage to go before making high performance products. To be a high-end motherboard manufacturer, the company's customer service should continue to care what overclocker users' needs and maintain long term service availability. Further, manufacturer should also provide OC-relevant technical support when needed. When some other manufacturers highlight their product as "overclockable" ultra performance, but without "enthusiast level" customer service, that should not be acceptable. "OC" is not just an empty marketing slogan. DFI has set up comprehensive, enthusiast-level customer service, and global technical team support. That is first and best in the industry!
If you want to know more about the latest BIOS of Infinity 975X, please visit our website.