(Auszug aus der Pressemitteilung)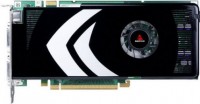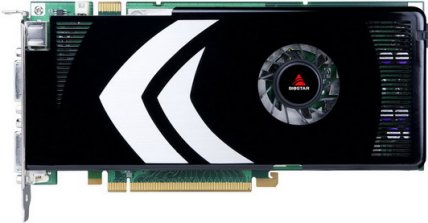 BIOSTAR Microtech Int'l Corp., the VGA card specialist, announced today a new high-end model- V8803GT52 which is the first PCI-Express Gen.2 in the world. The performance of this card is one of the best in the world, and V8803GT52 still has the advantage of its compact size. Sigma Gate V8803GT52 takes about only 1/2 space of a typical GeForce 8800GTX model and is barely one slot wide. This model is based on Nvidia leading technology in the graphic card field.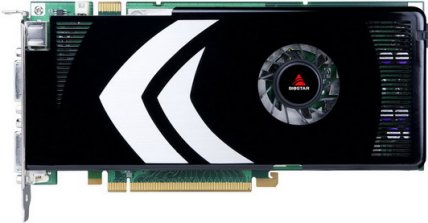 Your search for the perfect graphics card is over. The ideal combination of power, performance, and price, SLI™-Ready, is called Sigma Gate V8803GT52 (with NVIDIA® GeForce® 8800 GT chipset offers 112 stream processors, a 256-bit frame buffer, standard-setting GeForce 8 Series features and, a strikingly immersive DirectX 10 gaming experience). Ultra-realistic smoke, rain, explosions, lighting, terrain deformation and motion blur enable jealousy-inducing, lightning-fast gameplay in the hottest games, including Crysis, Hellgate: London, Call of Duty 4, and Gears of War. With full support for PCI-E 2.0 and featuring second generation NVIDIA PureVideo™ HD engine, GeForce 8800 GT is worth the wait.
Fully Support PCI Express 2.0
Designed to run perfectly with the new PCI Express 2.0 bus architecture, offering a future-proofing bridge to tomorrow's most bandwidth-hungry games and 3D applications by maximizing the 5 GT/s PCI Express 2.0 bandwidth (twice that of first generation PCI Express). PCI Express 2.0 products are fully backwards compatible with existing PCI Express motherboards for the broadest support.
GigaThread™ Technology:
Massively multi-threaded architecture supports thousands of independent, simultaneous threads, providing extreme processing efficiency in advanced, next generation shader programs.
NVIDIA® Lumenex™ Engine:
Delivers stunning image quality and floating point accuracy at ultra-fast frame rates.
16x Anti-aliasing Technology: Lightning fast, high-quality anti-aliasing at up to 16x sample rates obliterates jagged edges
128-bit floating point High Dynamic-Range (HDR) Lighting: Twice the precision of prior generations for incredibly realistic lighting effects—now with support for anti-aliasing.
NVIDIA® Quantum Effects™ Technology:
Advanced shader processors architected for physics computation enable a new level of physics effects to be simulated and rendered on the GPU—all while freeing the CPU to run the game engine and artificial intelligence (AI).
NVIDIA® ForceWare® Unified Driver Architecture (UDA):
Delivers a proven record of compatibility, reliability, and stability with the widest range of games and applications. ForceWare provides the best out-of-box experience for every user and delivers continuous performance and feature updates over the life of NVIDIA GeForce® GPUs.
DirectX® 10 Support:
DirectX 10 GPU with full Shader Model 4.0 support delivers unparalleled levels of graphics realism and film-quality effects.
NVIDIA® PureVideo™ HD Technology2:
The combination of high-definition video decode acceleration and post-processing that delivers unprecedented picture clarity, smooth video, accurate color, and precise image scaling for movies and video.
Discrete, Programmable Video Processor:
NVIDIA PureVideo is a discrete programmable processing core in NVIDIA GPUs that provides superb picture quality and ultra-smooth movies with 100% offload of H.264 video decoding from the CPU and significantly reduced power consumption.
HDCP Capable:
Designed to meet the output protection management (HDCP) and security specifications of the Blu-ray Disc and HD DVD formats, allowing the playback of encrypted movie content on PCs when connected to HDCP-compliant displays.
High-Quality Scaling:
Enlarges lower resolution movies and videos to HDTV resolutions, while maintaining a clear, clean image. Also provides downscaling of videos, including high-definition, while preserving image detail.
Inverse Telecine (3:2 & 2:2 Pulldown Correction):
Recovers original film images from films-converted-to-video (DVDs, 1080i HD content), providing more accurate movie playback and superior picture quality.
Specification of Sigma Gate V8803GT52