(Auszug aus der Pressemitteilung)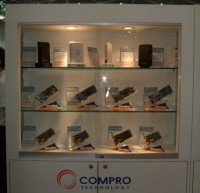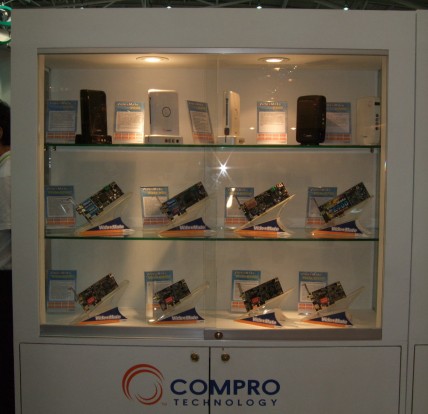 Taipei, Taiwan, 3 June 2008 – Computex Taipei 2008 will be held from Jun 3 to 7. During this event, Compro Technology, an innovative leading manufacturer and developer of PC multimedia products, will demonstrate our most advanced technologies for PCTV, HD Player and IP camera.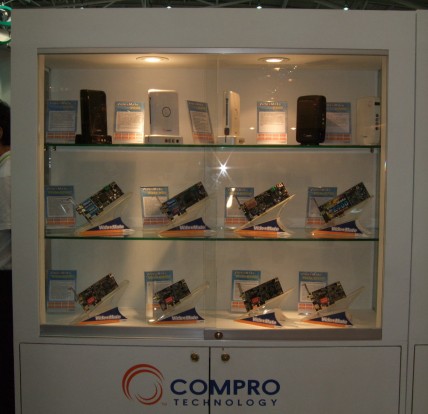 Base on the main theme of "Enjoy the brilliant VideoMate HD experience", we will stun you with the hottest products listed as below:
PCTV : To meet the Vista wave, Compro launches a series of Vista-ready TV tunner products — VideoMate Vista series. These products provide Vista utilities like Gadget and Add-In, that reduce the learning curve of new users on PCTV products and the Vista operating system. All of the VideoMate Vista series come with the Microsoft certified remote which can access the features of Windows Media Center and ComproDTV. In addition, Compro will showcase a new range of high-end dual hybrid hardware MPEG 1/2/4 TV cards. These high-end products deliver flexible TV viewing options. The exclusive MPEG-4 hardware encoder is able to compress video into compact sizes while still maintains great image quality video. There are also new products designed for the DVB-T, DMB-T/H and DVB-S systems for the respective markets.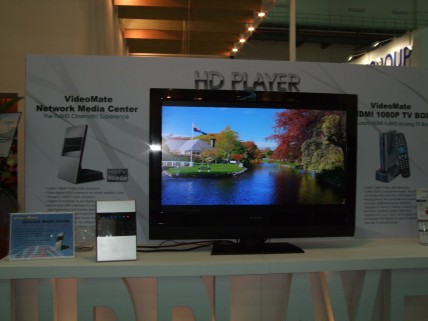 HD Player:

VideoMate Network Media Center — The silver sleek bodyline of the HD player — VideoMate Network Media Center contains the powerful H.264 processor which is capable of showing brilliant and vivid 1080P Full HD movies. To satisfy the growing number of digital HDTVs, VideoMate Network Media Center is capable of decoding any MPEG-2 or H.264 digital TV streams in the world. However, being powerful does not mean noisy, VideoMate Network Media Center operates at a dead-silent 0dB range which means it will not get in the way of your viewing pleasure, unlike the others. Lastly, the unit can act as the preferred home media server to share your favorite multimedia data, like audio, video or photos.
HDMI FullHD Analog TV Box — HDMI FullHD Analog TV Box empowers you to enjoy the Full HD cinematic experience with the elegantly designed body and pure digital HDMI connection for a lossless A/V transmission. HDMI FullHD Analog TV Box offers a maximum resolution of 1920 x 1200 which satisfies even the most demand users. The High Definition Multimedia Interface (HDMI) facilitates the lossless digital connection between high end gaming consoles, e.g. Xbox 360 or PS/3, and the HDMI FullHD Analog TV Box for the perfect reproduction of vibrant pictures; for the analog only devices, the HDMI FullHD Analog TV Box offers true Full HD resolution on via the component input for a flawless picture.
In addition to the picture quality, the HDMI FullHD Analog TV Box is highly adaptable to suit the needs of a wide range of display formats from 4:3, 5:4, 16:9, and 16:10 making it one of the most versatile TV box on the market. To compensate for the different broadcasting video standards, the HDMI FullHD Analog TV Box provides OptiRatio to stretch and shrink the video to fit the display device, making picture perfect device.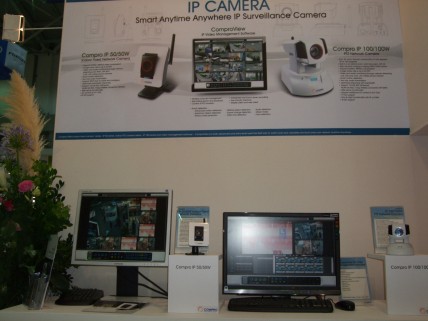 IP Camera: Targeted at the pro-sumer level, Compro offers indoor fixed camera series– IP 50 series、indoor PTZ network camera series– IP 100 series and video management software– ComproView for both advanced and entry-level users the best way to watch over your valuables and love ones over network anytime anywhere.

Indoor fixed camera series — IP 50 series: All models of the IP 50 series come equipped with built-in Smart Motion Detection, two-way audio, IR support, and additional I/O controls.
Indoor PTZ network camera series — IP 100 series: Equipped with a High Dynamic Ranging (HDR) CMOS sensor, day and night functionality, smart motion detection, and built-in 2-way audio transmission, the IP 100 series provide the best quality surveillance monitoring and recording and ensure instant responses when security is compromised.
Video management software — ComproView: ComproView is a high performance, easy to use surveillance software system. It supports both multi-channel IP cameras and analog video capturing cards. It also provides a complete solution for high quality long term video and audio storage. Numerous built-in intelligent detection tools are capable of handling individual channel customizations and event triggered alarm functions. It also supports multiple remote monitoring modes with potent functionalities and an effortless user interface on the media platforms of cellular phones, PDAs, or internet browsers.
The demonstration will be showcased at Computex in Compro's booth L509a, L510, L513a and L514 at the TWTC Nangang Exhibition Hall.