(Auszug aus der Pressemitteilung)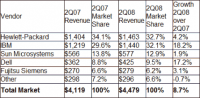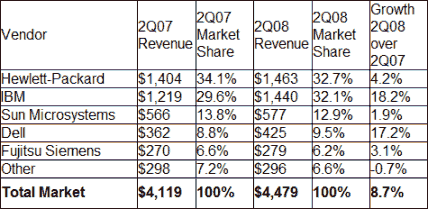 LONDON and PRAGUE, August 29, 2008 – According to IDC's EMEA Quarterly Server Tracker, factory revenue in the EMEA server market grew 8.7% year over year to $ 4.4 billion in the second quarter of 2008. Shipments grew 12.4% to reach nearly 700,000, 95.5% of which were x86 boxes. The overall server market results in EMEA presented the highest growth since the first quarter of 2007 in factory revenue terms and since the third quarter of 2005 when looking at unit volumes, despite the overall slowing economy.
Growth in Central and Eastern Europe continued to outstrip other subregions. Server revenue there was up 17.8%, followed closely by the Middle East and Africa, with 16.1% more sales than in the same quarter last year. As usual, the more mature Western European markets lagged behind, but still displayed very healthy growth of 6.8%.

"The imbalance between unit and revenue growth indicates the x86 segment is showing the strain of commoditization and downward pressures on prices," said Nathaniel Martinez, director of European Enterprise Servers at IDC. "The upswing in RISC/Itanium Unix servers and sales of CISC reflects a seasonal refresh cycle as corporate customers replace older legacy systems, and is expected to moderate. Technologies such as virtualization, blade, and multicore continued to thrive."

According to Beatriz Valle, research analyst at IDC, "companies still see scalable servers with high availability and RAS features as a future-proof investment, while they wait for virtualization on x86 to mature further. These are uncertain times and IT managers are expecting their budgets to be squeezed even more in the coming quarters. But emerging models such as cloud computing, and growth in Web 2.0, are presenting exciting opportunities for vendors."

"Blades continued to far outstrip the overall market, with revenue up 42.2% annually to over $ 400 million. Pedestals, still at nearly 50% of total revenue, increased by a healthy 9% over the year-ago period for the first time since IDC records began, displaying the focus on entry level pedestal promotions, mainly targeted at the SMB sector," said Giorgio Nebuloni, research analyst at IDC.

Once again the CEMA region (Central and Eastern Europe and Middle East and Africa) exhibited year-on-year revenue growth of 17% in 2Q08. "Demand for high-end servers was again particularly strong, reporting the highest percentage growth thanks to the larger sectors such as banking, telco, and processor manufacturing, across the regions," said Stefania Lorenz, research director, CEMA region. "Overall, sales of bladed servers grew by 38% annually in the regions combined."
IDC Server Market Findings
Revenue for x86 and non-x86 servers was evenly split, but growth
in the non-x86 segment accelerated considerably faster at 11.3%
annually. In units, the x86 segment enjoyed growth in the double
digits, while shipments of non-x86 boxes continued to decrease.
CISC server revenue rose 42.2% over the same quarter last year,
while RISC stabilized.
Windows led the operating system market results, with annual
growth of 10.3% and a revenue market share more than three
percentage points ahead of Unix, which also displayed strong
growth of 8% in revenue. Linux decreased by 1.8% over the year ago
period, the first time this operating system has suffered a dip in
revenue since the first quarter of 2002.
Volume servers displayed flat revenue growth to $2.2 billion as
the bulk of server growth went to high-end and midrange boxes.
These rose in revenue by 22.7% and 12.9%, respectively. However,
volume servers continued to be the dominant market segment in 2Q08
at around 50% of the total revenue in EMEA.
Regarding processor brands, POWER6 and SPARC64VI chips both
enjoyed outstanding growth as a consequence of the spike in demand
for high-end servers. Opteron decreased slightly while enterprise
customers await the forthcoming 45-nanometers version.
IDC Vendor Market Findings
HP was just ahead of IBM in EMEA, producing a statistical tie this
quarter. Sales of Proliant grew 5.3% in revenue and 16.6% in
units. Integrity overall represented 26.6% of the vendor's total
EMEA revenue, and the Integrity Non-Stop segment in particular
continued to benefit from migration by customers at the end of
their life cycles.
IBM enjoyed outstanding revenue growth of 18.2% over the year-ago
period on the back of a stellar performance of its System z
mainframes, up 47.3%. A strong, balanced result across all its
server lines helped the vendor noticeably narrow the gap with HP.
The recently created Power systems family sold around $180 million.
Sun displayed a modest rate of growth of 1.9%, and its SPARC
Enterprise line, recently revamped with the next generation of
SPARC64 VII chips and also sold by Fujitsu Siemens, achieved
growth rates in the triple digits.
Dell was the only vendor alongside IBM to achieve double-digit
growth, as sales of Primergy reached 17.2% annually.
Fujitsu Siemens managed to show growth in a very competitive
environment, thanks to following through with its commitment to
offering a balanced product mix. Its BS2000 mainframes grew 21.5%
year over year while Primergy rose 5.7%.
Top 5 EMEA Server Vendors 2Q08 (Factory Revenue in Millions)